Purchasing and selecting new dinnerware can be a daunting task. For some of you, you've owned several different collections over the years and are looking for something that fits you and your family in your current season. For others, you might be about to get married and your floral dinnerware and his ultra modern dinnerware just won't mesh.
You are looking for something elegant and classy yet not overly formal. Then Arte Italica's Tesoro collection is the perfect solution to your dinnerware needs and the reason it's our featured collection this month.
We love that the collection includes everyday dinnerware items like dinner plates, bowls and mugs but also includes a variety of serving pieces needed for those special occasions.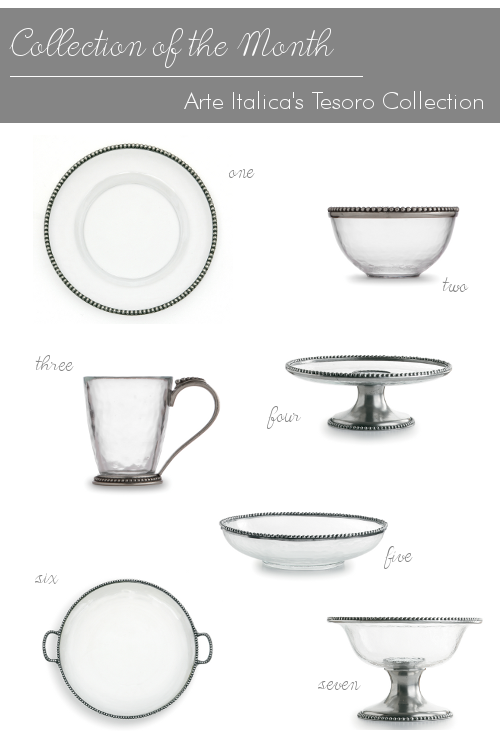 1. Dinner Plate // 2. Cereal Bowl // 3. Mug // 4. Cake Stand // 5. Serving Bowl // 6. Round Platter with Handles 7. Fruit Stand
In addition to the items listed above, the collection also includes a charger, salad/dessert plate, footed bowl, oval platter and pasta/soup bowl among others. Check out the full collection in our online boutique.
Each piece consists of mouth-blown glass accented with an extraordinary pewter beaded rim that creates a unique and versatile look. All pieces are handmade in Italy and made of Italian pewter and glass.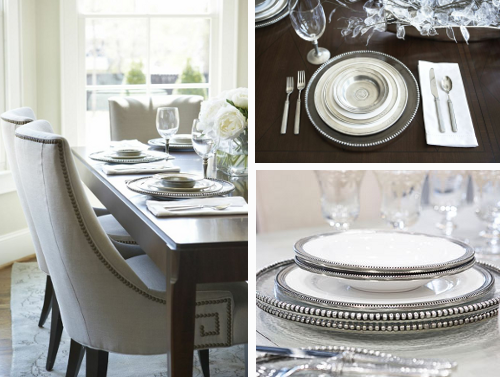 All pewter and glass items should be washed by hand using non-abrasive, non-citrus detergent. These items should not be used in the oven, microwave, or freezer. The pewter and glass drinkware items should not be submerged in warm water to soak but should be washed individually and dried.
Interested in adding the Tesoro collection to your wedding registry? Here at Postcard from Paris we have our very own fabulous wedding gift registry. In addition to having a variety of dinnerware collections available, we also offer luxurious gift and home decor items.
Through our registry, we also offer:
- Complimentary wedding specialist consultation.
- Training and assistance establishing your personal wedding profile.
- A registry site that enables your guests to purchase gifts online. Gift wrap and shipping options are available to make the process stress free and easy.
- An integrated social media site that inspires gift giving and builds excitement for the big day.
- Discounted completion program.
If you are interested in registering with us, click here to get started.