Along with your kitchen, your living or family room is the place where you probably spend much of your time. It's where guests sit and visit and where your family enjoys good quality time together whether it's watching television, playing games, or visiting with friends. Because it's a room that gets a good amount of use, the accessories and furnishings you select for this space should be functional and inviting.
Functional doesn't equal un-stylish however. There are many functional furniture pieces as well as accessories that are just as elegant and stylish as they are practical. Looking to create a beautiful living space for your family? Here are our top ten living room essentials from our online boutique.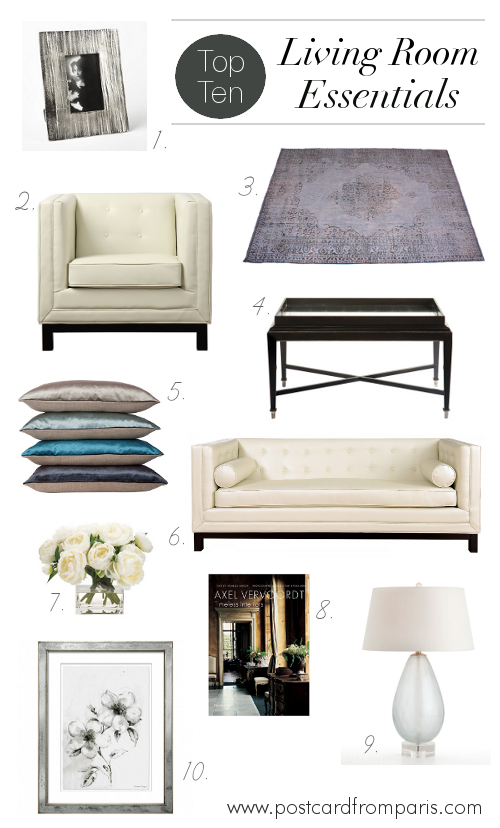 1. Family portraits and personal mementos are what make a space welcoming and inviting for guests. Display pictures of your family, friends and recent travels in beautiful picture frames throughout the room, like this aluminum bark frame. Available in two sizes.
2. One of the most important elements in a living room is proper seating. The right choice of seating is essential in creating a comfortable space. One stylish seating option is this cream leather chair. We love its clean lines and contemporary look.
3. The right rug can really anchor a space and also add a beautiful design element to a room. Antique rugs, like this one, offer a beautiful well-worn look that works well with a variety of styles and colors.
4. A coffee table is a great way to display beautiful accessories or books and also creates an anchor for your seating arrangement. This cocktail table has a removable tray top and an elegant black rubbed-through finish.
5. Decorative throw pillows are the perfect way to incorporate color and texture in a living room. These velvet Iosis Berlingot pillows come in a variety of beautiful colors and, with velvet being a fashion trend this fall, a great way to incorporate a seasonal touch.
6. Another elegant seating option that pairs beautifully with the cream leather chair is this cream leather sofa. The neutral colors and unique tufted back work well with a variety of furnishings and styles.
7. Flowers can make a space feel relaxing and inviting. They can also make a space feel fresh and alive. If you lack a green thumb or don't wish to waste your hard earned money on buds that will die quickly, opt for beautiful botanical reproductions like this peony glass cube.
8. Art and design books are a great way to showcase your personal style and interests. They also make for lovely accessories. Display your favorite design book, like this Axel Vervoordt: Timeless Interiors book, on your coffee table or open shelving.
9. The proper lighting can really set the tone of a space. Lamps, like this frosted teardrop lamp, offer just the right amount of light and also add elegance and refinement.
10. You can't forget wall decor when completing a living room space. This mirror framed Elizabeth Ockford print features an elegant black and white color palette that offers versatility and style for any living room.
Which of these items are you dying to incorporate into your own living room?