Choosing paint colors for your home can sometimes be challenging. We blogged about how to choose paint colors for your home in general, describing the best color schemes as well as our favorite neutral paint colors. But, one of the trickiest rooms to design and paint can be your bathroom.
Given the small size typical of bathrooms, you have to be careful in choosing a paint color that won't make the room appear even smaller than it already is. It's also important to pick a color that is flattering given the activities that take place in this space, such as makeup application.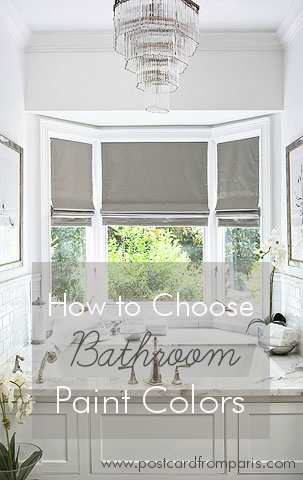 We've put together a list of factors to consider when selecting bathroom paint colors as well as paint color suggestions depending on the look and feel you are going for.
Size of the room and available natural light. Bathrooms are typically smaller footprints with possibly one or two exterior walls. Combine that with the need for privacy (high windows, window coverings, or no windows) and the wall space taken up by mirrors and lighting, bathrooms can start to feel small and dim. One way to counteract this is by painting the room in a light, reflective color. Whites, beiges, taupes, and grays can all work well for this – but make sure you select one with an extra-white paint base. These colors will bounce the available light around the room and keep it feeling open. The accentuation of available light becomes very important for those fine task lighting activities that occur in bathrooms (makeup application, shaving, etc). Origami White SW 7636 (a cooler white) and Greek Villa SW7551 (a warmer white) are two appropriate neutrals that would work well in this setting.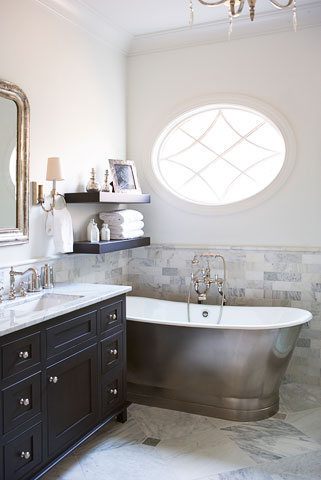 Color reflection. As mentioned above, planning for fine task activities is important in a bathroom. The color you select for your walls can have a great effect on the appearance of your complexion and your ability to see clearly to complete certain tasks. Most colors can work for this, but warmer ones are particularly good. Aim for colors with red or yellow undertones, and if you go with a gray, make sure it is a warmer one. Stay away from greens; they are the least flattering and the most difficult to work with. Sandbar SW7547 (a warm gray that's slightly deeper) and Natural Tan SW7567 (a neutral beige) would work well.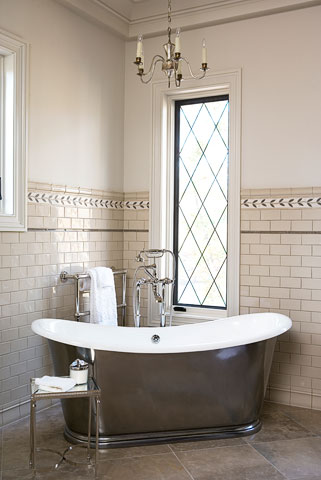 A "clean" & "bright" feel to reflect a sanitary environment. If cleanliness is your priority, keep the bathroom color bright and crisp. Practically speaking, a bright white will facilitate cleaning of the space, but it will also give the room a cleaner feel. A bright white can be very flexible and lend itself to both modern and traditional settings. Use the other materials in the room to drive the aesthetic or to bring in a bit of color if it starts to feel too "sterile." Downy SW7002 (a warmer white) and Snowbound (a cooler white – that's not too cool) are great examples, but the selections of whites are practically endless.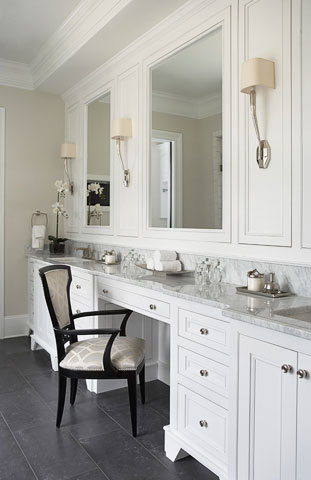 Spa/sanctuary feel. Use a color that is soothing for you – whether it be an earthtone or purple, for example, your favorite color can create a calming, relaxing setting. Lighter, neutral colors still work best, so keep that in mind when making your selection. Alpaca SW7022 is a nice purple example, while Front Porch SW7651 is a great calming blue color.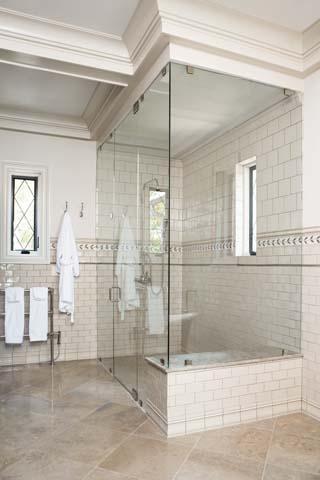 Geographic location. Another way to select your bathroom paint color is to let your location guide your selection. For example, if you live in a typically overcast area, using a bright, uplifting color can help get you going in the morning. A warm, soft yellow like Lemon Chiffon SW6686 would work well for this. Or, if your home is on the coast, using a blue can accentuate the natural blue tones in the sky and sea surrounding the home. There are a plethora of blues, but Silvermist SW7621 is a terrific one.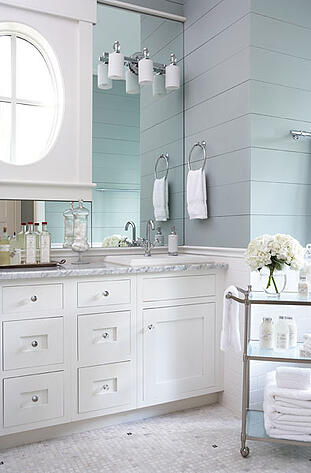 When selecting paint for your bathroom, it's important that you select the appropriate finish for this type of space. Satin paints are a good option for bathrooms because they are easy to clean and offer a warm finish. Semi-glass is another popular finish option for bathrooms due to its resistance to humidity and moisture.
What type of look and feel are you looking to achieve with your bathroom?
Download these additional tips from our designers to help you choose paint colors for your overall home.
Be sure to browse our online boutique for beautiful bathroom accessories and spa-like lotions and soaps.
Photos by: Rachael Boling