Choosing paint colors can be a tricky - but crucial - part of any home's interior design. And it can be deceivingly difficult. You might see a color in a painting and fall in love with it but matching that color is another story. Or you spot a color in someone else's home but it doesn't look quite as good in your own. Or you ask someone what that beautiful color is and they tell you white (and there are hundreds of "white" paint colors so good luck there).
Every day, we receive dozens of questions about paint colors we have used in our design projects. In today's blog post, we are talking a little about paint color details for some of those most popular rooms along with a few tips on how to choose paint colors for your own home.
Let's start with this gorgeous white kitchen.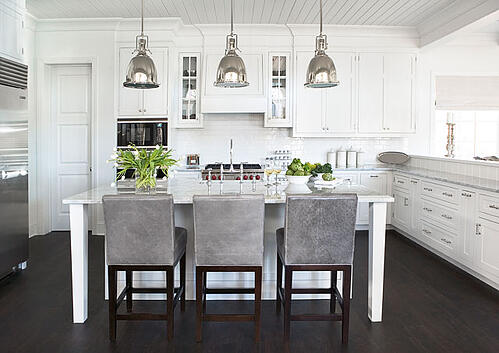 Paint Color: Benjamin Moore Winter White | Walls-eggshell finish; Trim-semi-gloss finish; Ceiling-flat finish
This entire kitchen was painted in one color but with different finishes. We are big believers that neutral colors are a great backdrop when it comes to the color of a room. Given the open layout of this home, using one color throughout kept the rooms connected and made the overall flow of the house better.
For this next kitchen, we also went with white but used a few different shades along with dark interior door framing to provide contrast and interest.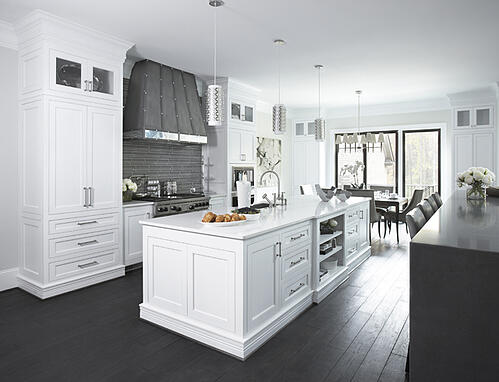 Paint Colors: Wall color-Benjamin Moore Intense White (OC-51) | Trim-Sherwin Williams Pure White (SW7005) | Interior Doors- Sherwin Williams Black Fox
Beige can sometimes be a tricky paint color. Neutral colors have various undertones; they can have shades of blue, yellow, red, and the like. In order to use the right beige or tan in a space, it is important to consider the lighting and the undertones of the furnishings and other room design elements to ensure everything complements one another instead of clashing.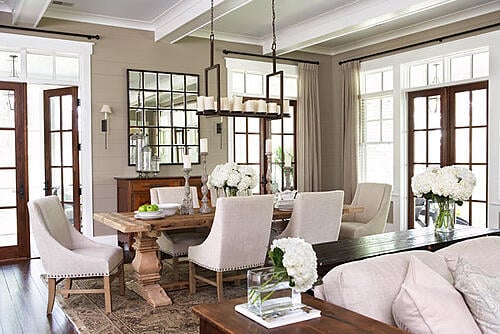 Paint Color: Wall color-Benjamin Moore Berkshire Beige AC-2 Flat
When it comes to undertones, you should also keep in mind the type of room and overall perception of temperature when selecting paint colors. For rooms that you want to relax in or experience calm like a bedroom, choose paint colors with coolor undertones. For rooms where you want to feel energized, go with paint colors with warmer undertones like work spaces or workout rooms. In rooms where you want to feel 'cooler' such as a sunroom that is Southern facing, go with paint colors with cooler undertones as well.
Neutral colors don't necessarily mean just beige or tan. Shades of gray are also neutral in that they are extremely versatile. The gray walls in this living room complement the wood ceiling beams and the dark interior frame of the windows. Additional furnishings like the dark antique door over the mantle also complement the cool gray paint color.
By choosing the same shade of paint for the walls, ceilings and casings, the room feels more lofty and open. In some cases, using various paint colors in one room for ceilings and walls can make the room feel choppy and can break up the space too much.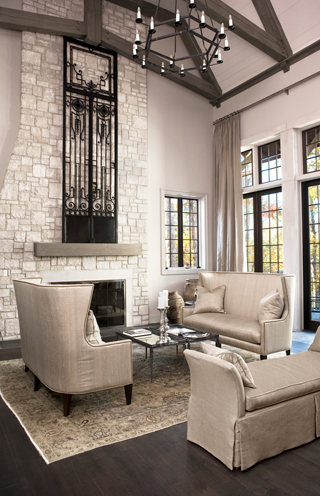 Paint Colors: Sherwin Williams Anew Gray (SW7030); Walls-Flat; Ceilings-Flat; Casings-Semi Gloss |Windows- Sherwin Williams Urbane Bronze Satin Finish
When it comes to painting the ceiling in a particular room, there are a few things to keep in mind when it comes to selecting a color. To lighten a dark space, a soft yellow, white or off white paint color will help reduce shadows. If you want your ceiling to attract attention, go with a lighter paint color. Dark-color ceilings tend to attract attention to your walls, furnishings and accessories in a room.
Benjamin Moore alone has more than 3,000 paint colors so you can imagine how overwhelming that selection process could be. Here are a few favorites of our design team:
Grays: Pediment (SW7634), Amazing Gray (SW7044), Gauntlet Gray (SW7019), Intellectual Gray (SW7045), Analytical Gray (SW7051), Repose Gray (SW7015)
Browns: Loggia (SW7506), Stone Lion (SW7507), Nantucket Dune (SW 7527),
Accessible Beige (SW 7036), Taupe Tone (SW7633), Softer Tan (SW6141), Wool Skein (SW6148)

Exterior: Urbane Bronze (SW7048), Black Fox (SW7020)

Cabinets/Bathroom Vanity Bases: Benjamin Moore Kendall Charcoal, Iron Ore
(SW 7069), Thunder Gray (SW7645)

Whites: Benjamin Moore Intense White (OC-51), Benjamin Moore Winter White
(2140-70) Pure White (SW7005), Natural Choice (SW7009)
Download these six tips from our design team to help you go about selecting the right paint colors for your own home.
Do you have a favorite go-to paint color or color palette that you tend to use for your home?