In addition to a new color forecast on the horizon in interior design, the fashion industry also has their own predictions and trends for the fall season. The color predictions might be similar, but the way they are incorporated can be subtly or vastly different.
We've blogged about some of our most fashionable designs in the past. Spaces that we have designed that represent the essence and colors found in some of the upcoming fashion trends and style reports. In keeping with the fall theme, we pair some of this upcoming season's new fashion designs with some of our interior design projects that embody these fall ensembles.
Neutrals are definitely in this season. But just like a neutral color palette doesn't mean boring in interior design, the fashion industry has taken neutral colors and some flare and detailing to add drama and interest to create truly stunning garments. Take this neutral gown. The added lace detailing at the top finishes the gown and adds an element of sophistication. Similarly, the dark trim and detailing in this dining room finish off the space and adds drama to the overall neutral color palette.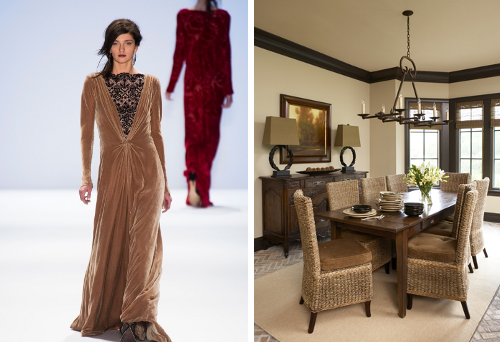 Dark and dramatic details also make up this next pairing. Both the room and the garment have a neutral beige base that offers an element of simplicity. But the wow factor is in the finishing touches of the black side draping and pockets on this dress and the dark trim, paneling and fireplace in this family room. The neutral bases for each allow for the dramatic touches to take center stage and steal the show.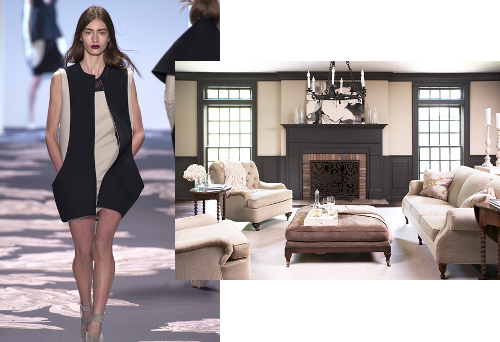 Neutral grays are another trend for fall. Gray color palettes add a level of sophistication and elegance that sets them apart from traditional neutral color schemes. Take this fall runway piece. It's tailored and chic and the solid silvery gray on the bottom half of the garmet lends to a formal and glamorous look. The finishing touches are the tailored collar and jewel necklace that add a feminine elegance to the piece. The same holds true for this neutral gray master bathroom. The neutral gray wall color reads very elegant and classic with the finishing touches of the room being the teardrop chandeliers and stainless steel stand alone tub.
In addition to using neutral colors to create sophisticated and elegant garments, this fall is also all about layering neutral colors to create more casual yet stylish pieces. This oversized ivory sweater paired with this fun flirty skirt creates an ensemble that can be worn for almost any occasion, whether it's dinner with girlfriends or errands on the weekend. But the real statement piece of this look is the knee length black boots showing that black can be paired with brown in certain instances.
This master bathroom also takes these same concepts and colors to create a casual yet stylish space. The dark interior doors add additional contrast and act as the focal point and statement piece of the room.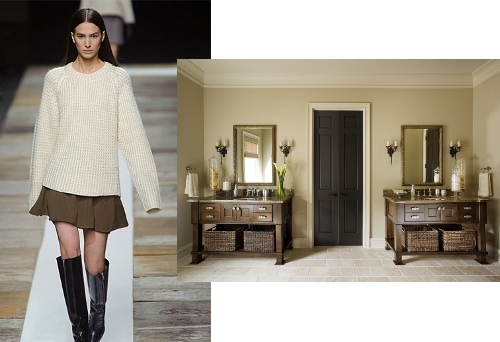 While neutral is in, color is not lost or forgotten for this upcoming fall. Subtle hues and hints of color go a long way with creating a stylish look. This oversized coat has a hint of lavendar while not steering too far from an overall neutral ensemble. The handbag and gloves polish off the look and bring in additional color and refinement.
This half bathroom, while having a mostly neutral color palette, has subtle additions of color as well through the use of natural botanicals and a marble countertop. The hanging circle mirror is the statement accessory piece that finishes the space and ties everything together.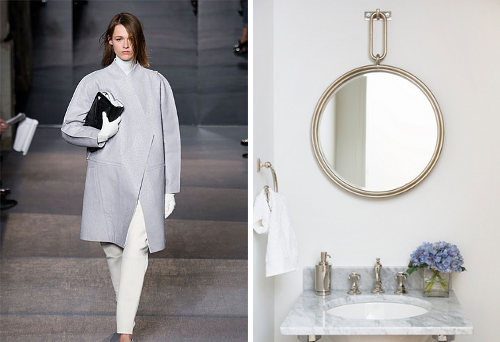 What is your favorite fall pairing?
If you are interested in creating a fashionable room and need help infusing fashion into your home, be sure to contact one of our designers today.

Looking for ways to prepare your home for the new season? Download this fall design guide full of tips, trends and even a yummy fall recipe.
Fashion images from: Tadashi Shoji, Vera Wang, Valentino, Theyskens' Theory, Proenza Schouler.

Interior photos by: Rachael Boling