A home office is a place where you need to be comfortable, focused and organized. But a home office doesn't have to be boring.
Desk furniture and accessories have come a long way when it comes to interior design. No longer do you have to sacrifice style for organization and function. By bringing in the right pieces and accessories, you can create a space that enables you not only to manage and maintain all of your daily projects and tasks but also exhudes a sense of confidence, comfort, and class.
If you are looking to overhaul your current home office, here is everything you need to create a stylish space.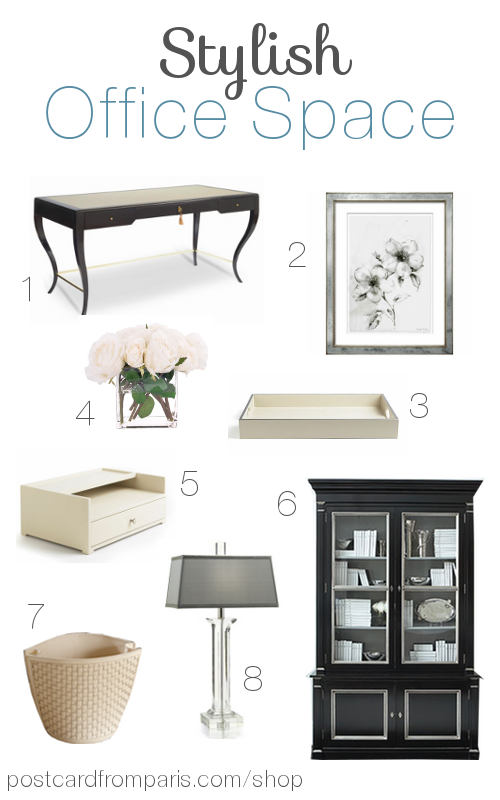 1. One of the most important things you need for a home office is a desk. Instead of settling for a boring, run-of-the-mill desk, opt for one that has gorgeous curvy lines like this gorgeous desk that features an ivory leather insert top. Available through Postcard from Paris Home.
2. We've talked about the importance of artwork in interior design and how it adds interest to a space. Choose art pieces for your home office that will be a daily source of inspiration. Not only will they complete the overall look and feel of the space but they will also spark creativity. These mirror-framed Elizabeth Ockford prints work well in any space; the mirror frames add a touch of interest.
3. Instead of cluttering up your desk with invoices that need to be paid or paperwork that needs to be filed, store all of your loose papers in this silver framed tray by Barbara Berry. The tray is simple but still makes a strong statement with sharp modern lines and a silver border.
4. Nothing freshens up a place or brings it alive like flowers. Instead of buying fresh flowers that won't last very long, opt for natural looking botanical reproductions like this rose glass cube. Place them on the corner of your desk or side table in your office to really bring life to the space. Some of the most life-life reproductions we have seen.
5. For storing incoming mail, writing untensils and pads of paper, use this desk organizer also by Barbara Berry. The sleek design and neutral color will add sophistication and style to your desktop.
6. For additional storage in your home office, consider this library cabinet that has a combination of closed door and glass door display storage. For unsightly items like printers and faxes, store those in the bottom portion of the cabinet. Accessorize the glass display shelving with your favorite accessories as well as books, binders and other office necessities.
7. Who says your trash can has to be unsightly and boring? For tossing all those papers and trash, use this beautiful ivory woven wastebasket instead. Available through Postcard from Paris Home.
8. Having sleek and ambient lighting for your home office is essential for setting the overall tone of the space. Go with lamps and light fixtures that have classic shapes but elegant finishes like this classical crystal column lamp that features a handcrafted crystal base with silk outer shade.
What is your favorite thing about your current home office? Do you love the natural light, your current desk chair or the picture frames with loved ones on your desk that add a personal touch? Let us know in the comments!
If you are looking to update your current home office, be sure to stop by one of our two retail locations and let our retail specialists help you make the perfect selections for your new office. You can also visit our online boutique to pick out some additional items to make your office both functional and stylish.
If you need additional design help, feel free to contact one of our designers today who can help you really transform your home office into something beautiful.