We have the privilege of working with many outstanding vendors. When it comes to purchasing a piece of furniture, it's important to consider both the design or style and the quality. The folks at Century Furniture have been making impeccably made furniture pieces for over 65 years, and their furniture is among the most luxurious and beautiful. Not only are many of their furniture pieces sustainably made, they also offer amazing customer service and almost limitless customization.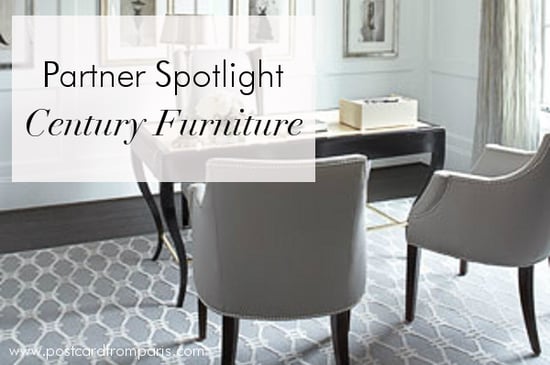 We recently sat down with Century Furniture's Lisa Jennings who answered a few questions for us about Century. Here are a few things you should know about this family-owned furniture company.
What makes Century Furniture unique? Century is a 65+ year old family-owned full line upholstery and case goods company, started by Harley Shuford and now run by the third generation of the Shuford family. We have historically focused on and continue to manufacture the majority of our product in our factories in Hickory, NC. We are focused on high-end design with an emphasis on quality and detail.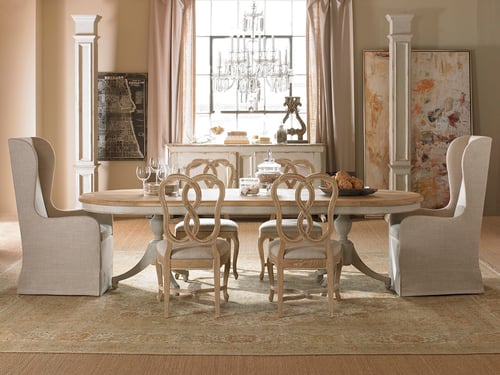 Tell us a little about your production process. We have three levels of upholstery and case goods offerings, in a relative good/better/best pricing tier to appeal to a wide range of design and retail customers. All levels of upholstery are manufactured at our two upholstery plants in Hickory by local craftsmen and women in a bench-style production. Upholstery frames are made in our case goods plant, then individually eight-way hand tied. Fabrics are cut and sewn and then come together on the upholstery floor with the sprung-up frames and all cushion cores to proceed from inside upholsterers to outside upholsters, then upholsters who specialize in applying skirts and final trim details. We have an in-house custom shop at both our upholstery and case goods plants that allow us to offer custom sizes and customization of styles.
Our "good" level of case goods includes product that we import, primarily from the Philippines and Vietnam, to offer materials and techniques not readily available in the U.S. Our "better" and "best" case goods are manufactured and finished in our Hickory case goods plant. We start with kiln drying our lumber, cutting/drilling/shaping parts with computer generated machines, applying hand and laser-cut veneers, then assembling, distressing, sanding, and finishing by hand. Our finishes are usually 20-22 step finishes with gold and silver leafing, striping, and dry brushing, hand-waxing, and other specialty treatments available as well as custom finishes.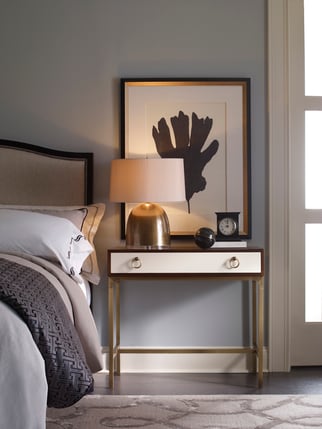 Can you talk about your commitment to sustainability? It is a corporate ongoing mission for Century Furniture to be the furniture industry's leading environmental steward focusing on sustainability and environmental consciousness in our manufacturing processes. In addition to being a 2009 Sage Award finalist, all of our domestic manufacturing plants have achieved AHFA EFEC registration. Century is focusing on incorporating sustainability into our product designs through many initiatives, including using only sustainably forested hardwoods from vendors certified by the Rainforest Alliance, using soy-based foam for cushion inserts and selecting natural fibers, dyed with natural dyeing processes when possible.
Quality is a big focus of Century. How do you all ensure you meet those high standards you set? We have specific inspections in place all along our production lines and before each piece is packed for shipment. We have implemented and continue to broaden the use of exit photos of upholstery and case goods, showing individual pieces upon completion and just prior to shipment. When product is returned with quality issues, we have a team consisting of plant managers and supervisors, customer service and customer service managers, and often our company president involved. Each piece is reviewed to determine what the issue is and how to best address the repair as well as how to keep the same issue from happening again.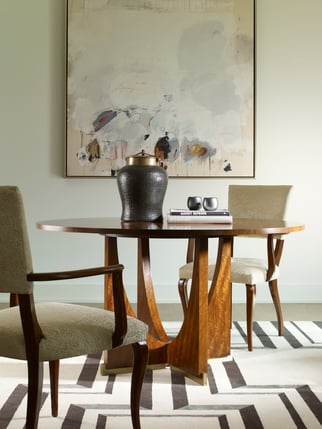 Can you share a little bit about the customization process and some of the customization options you offer? With custom shops at both our case goods and upholstery plants, we offer customization of our Signature upholstery and any of our Hickory case goods. Upholstery customization could include anything from changing the dimensions, changing the number of seat/back cushions, adding/deleting skirts, up to combining styles to re-imagining a new piece. In case goods, the simplest customization would be changing finishes, including customizing Benjamin Moore and other residential paint colors to furniture finishes. We can also change dimensions, interiors of cabinets, convert dining tables into conference tables, even combine parts of several pieces to create a piece that functions in a new way.
Can you explain a little bit about the difference in your different lines - Studio Essentials, Signature, etc.? Studio Essentials is our "good" price point upholstery and is designed to be urban in scale and design, with more transitional styling. Home Elegance, our "better" upholstery is a larger scale, plush seating collection, with both traditional and transitional styling. It is primarily characterized by a custom collection called Cornerstone, which allows the client to select the chairs/sofa/sectional they want and then customize the arm/back/base styles to create their own design. Signature is our "best of class," with styling ranging from clean-line transitional with impeccable lines to styles with beautiful curves, button-tufting, and other classic upholstery detailing. Many styles in the Signature collection can be customized 'by the inch' or to fit a client's specific needs.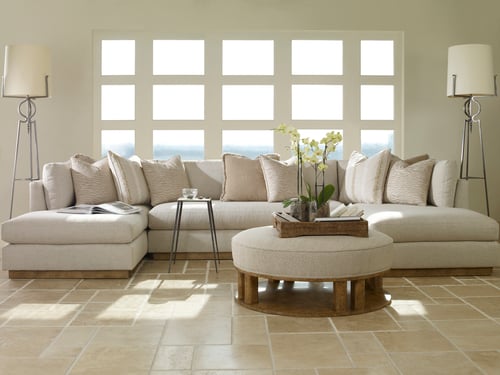 What is your best selling collection? Why do you feel it's been a hit? The top selling case collection is Omni, a transitional/contemporary collection with beautiful lines and veneers, timeless design, and 100+ finish options. I would invite everyone to take a look at our Web site, www.centuryfurniture.com to see what may be their own favorite case and/or upholstery collections (and work with Postcard from Paris to fulfill your piece).

Lisa, what is your own personal favorite collection and why? I like aspects of all of our collections, but particularly like the collections that are transitional with cleaner lines that allow them to mix well with many design project styles from transitional to traditional, either by the way they are included in the project or by changing the finish/fabrics. Special favorites are Bridgeton, Tribeca, Artefact, New Traditional and Chin Hua.

We appreciate Lisa taking the time to answer a few questions for us. To learn more about Century Furniture, you can visit their Web site and browse the many products they have to offer.