Now that Thanksgiving has passed, it's time to pull out the Christmas or Hanukkah decor and deck the halls. We've already talked about how decorating simply for the holidays can be just as and sometimes even more beautiful than decorating your home from top to bottom. Whether you decide to add a simple bowl of ornaments or fully decorate your home inside and out, creating a warm and inviting environment is what's important this time of year.
Regardless of your holiday decorating style or preference, it's important to have a few staple items to spruce up your home and add a little holiday sparkle. If you are looking to add to your current holiday decor or need some inspiration for a few choice items, we've rounded up our top ten decorations for this holiday season.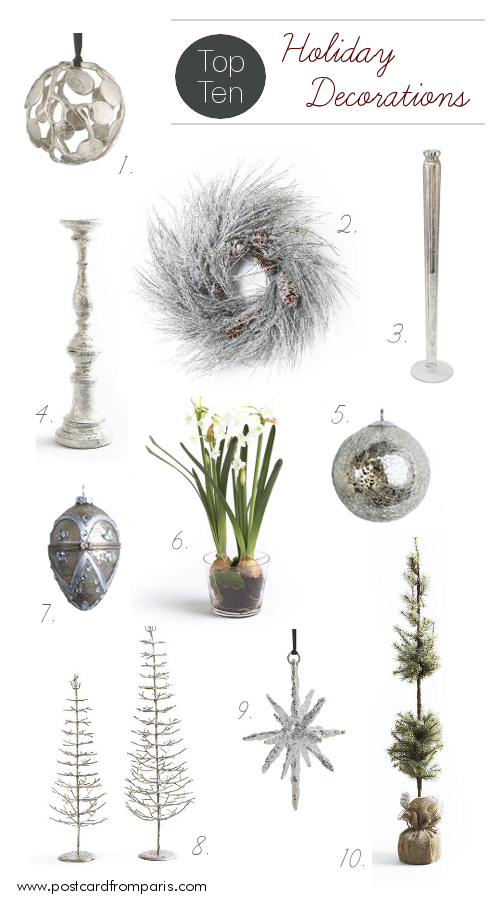 1. For a very unique and structural ornament that will stand out among the rest, this Michael Aram botanical leaf globe ornament is a fabulous choice. The nickelplate ornament features an intricate and ornate botanical leaf design.
2. Your front door and exterior of your home is the first thing guests will see when they come over. Don't neglect it. Put one of these frosted wreaths on your front door or exterior windows to add a touch of wintry elegance and make a wonderful first impression.
3. Simple everyday home accessories can make for great holiday decor. Pair your fresh greenery with these antique mercury silver glass ribbed candleholders on your dining table or buffet to create a beautiful holiday vignette or centerpiece.
4. Swapping out your existing candlesticks on your coffee table or entryway console table with these wintry candleholders is an easy and simple way to make your home more seasonal.
5. Very simple and classic ornaments can make a beautiful statement in your home during the holidays. Add a few of these silver glass ball ornaments to your holiday tree or group a few of them in a large bowl or vase to add a classic and traditional holiday touch.
6. Bringing in natural elements from outside is a great way to honor and celebrate the season at hand. For those that struggle with keeping plants alive or wish to incorporate natural elements that can be used year after year, these paperwhites are an exquisite botanical reproduction that can be brought out each holiday season.
7. It's always fun to use ornaments in unique ways. Use this glass egg box ornament for your holiday placesettings, like this holiday tablescape, or incorporate them into an advent calendar. Put treats and surprises into the ornament itself for a fun little activity for the kids to enjoy.
8. If you are looking to add a holiday touch to other rooms in your home, these metal trees are a fabulous option. Put them in your kids' rooms, bonus room, or on your kitchen island to spread the holiday cheer throughout your home.
9. Looking to bring a unique ornament to your next holiday ornament swap? Consider this Michael Aram Bethlehem Star Ornament. Resembling shining icicles, this ornament exhudes the sculptural beauty that is a Michael Aram signature.
10. Add a rustic and natural element to your home for the holidays with these iced needle pine topiaries. Available in a variety of sizes, they look beautiful set on tabletops as well as grouped together and placed in your entryway or on your hearth.
What is your favorite holiday decor item that you put out every year?
Be sure to browse our entire collection of holiday decor in our online boutique.