Home fragrances are an important part of completing your home's overall feel. The right fragrances can enhance your mood and make a space feel refreshing and invigorating. Candles, in particular, not only give off a wonderful fragrance but they also provide ambiance and are great accessories to decorate with.
We carry a variety of candles in our online boutique, many of which having a unique design and fragrance. If you are on the search for that perfect candle to display in your home, here are our top ten favorites from our candle collection.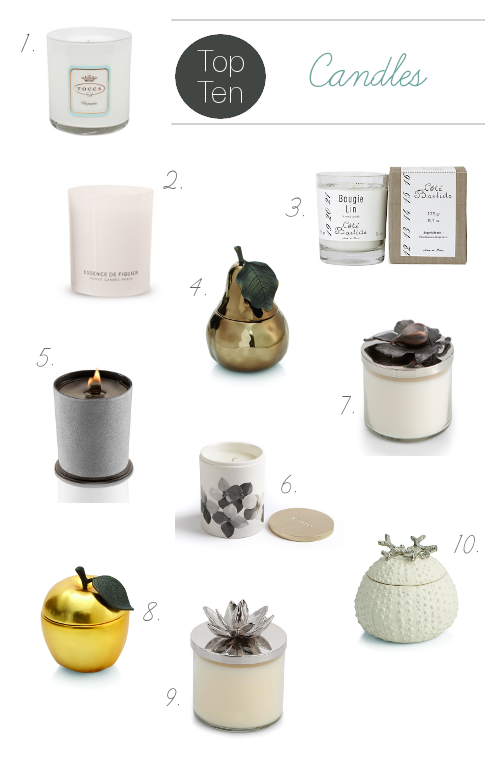 1. From the world-renowned TOCCA brand, this TOCCA candle is available in five fragrances, including classic scents like Cleopatra and Stella, all reminiscent of the St. Lucian beaches.
2. This delicate and simple candle from Herve Gambs is made in France and composed of all natural ingredients. With scents like noir de cassis and bois de cashmere, you will be transported to the sweet and sensual.
3. Another simple candle that's perfect for small spaces like bathrooms is this Cote Bastide candle-in-a-box. These hand-poured candles are made from the finest ingredients in France and burn for approximately 50 hours. Available in five fresh and light scents including cotton almond and linen.
4. For a more unique candle to accessorize with, this Michael Aram pear sculpted candle is made of beautifully sculpted coppertone and features an intricately designed leaf and stem.
5. This hand-poured Linari candle has a more modern and masculine look. Made of Italian glass and lid carved out of solid refined maple wood, this candle is made from high-quality wax, which allows an almost immediate fragrance diffusion as soon as the wax is warmed up.
6. Looking for a more earthy and nature-inspired candle? This Jason Wu orchid rain candle combines the Cattleya orchid with nashi pear, pomegranate, and goji berry.
7. For the perfect summertime scent, this Michael Aram fig candle delivers the dense and delicious aroma of sweet summer fruits. Also has hints of floral, vanilla, and deep wood.
8. Another beautifully sculpted candle is this Michael Aram pear sculpted candle. It offers an airy scent with fresh green apple as the base and hints of nectarine and mandarin.
9. This Michael Aram lotus blossom candle offers a lush fragrance that is reminiscent of a clear, cool and sun-filled morning. Features an elegant lotus blossom sculpted of nickelplate for the lid.
10. Looking for the perfect candle that has a beachy vibe? Look no further. This Michael Aram sea urchin candle makes for a gorgeous accessory for any tabletop or bookshelf and is perfect for the summer.
Which candle from our top ten is your favorite?