We've talked about how important it is that your bathroom feel and look elegant. It should be a soothing space that you can retreat to after a long hard day. One of the important elements in making your bathroom look and feel elegant are the accessories and bath products you place in it.
Instead of accessorizing and using just your run of the mill store bought items, accessorize your space with elegant bathroom accessories and luxurious bath products.
Here are our top ten most elegant and luxurious bathroom accessories available in our online boutique.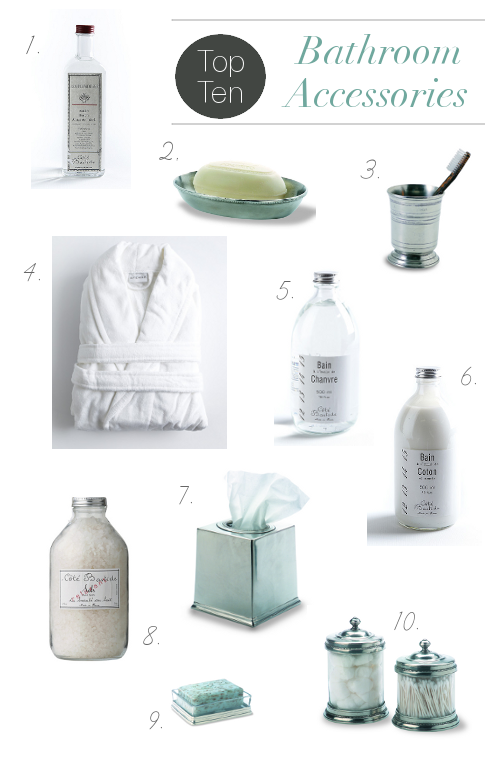 1. What's more relaxing and soothing than a nice long bubble bath after a long hard day? Pour some of this bubble bath by Cote Bastide in and be surrounded by its invigoratingly fresh scent. It's sure to ease any stress.
2. Display some of your bathroom necessities, like soap, using elegant handcrafted accessories like this pewter oval soap dish from Match. Combines beauty and function effortlessly.
3. Another beautiful yet functional bathroom accessory is this pewter toothbrush cup. Makes for a lovely accent on your bathroom vanity.
4. Your bathroom isn't complete without a super plush and comfy robe to snuggle up in. One of our favorites is this SFERRA robe that's made of soft and durable ringspun cotton.
5. Stock your shower with luxurious bath products like this Cote Bastide bath & shower gel. With a hint of birch and lily, this earthy and crisp shower gel is perfect for a natural scent.
6. After you step out of your shower, lather up with this Cote Bastide bath cream. Lotion contains extracts of cotton oil, rich in vitamin E and proteins that your skin will love.
7. Store and display your tissue boxes in this gorgeous square pewter tissue box cover. Made of the finest pewter available, this will turn ordinary tissues into an elegant bathroom accessory.
8. Make your bath even more relaxing and fragrant with some of these coarse sea salts. The salts are presented beautifully in an apothecary style jar, which would look fabulous on display.
9. Another beautiful soap dish option is this Match soap dish that has a combination of pewter and glass. Makes for a beautiful display next to your bathroom sink.
10. Some bathroom necessities can be unsightly or an unpleasant addition to your bathroom. Store some of the less pretty bathroom essentials like cotton balls or q-tips in these Match bathroom canisters. Available in a small and medium size.
Which of these bathroom accessories would you like to see grace your own bathroom?