Including an office in your design can be an excellent way to enable you to get a little more work done at home. A great home office is a soothing place to catch up on correspondence, organize your family's bills, or simply read a newspaper. While our online boutique features many beautiful accessories, we thought it would be nice to gather some of our lesser known accessories that could make your home's masculine office stand out.
A man's office doesn't have to be a stylistic dead space in your otherwise put-together home. Simple, rugged pieces can transform a work space not only by adding sophistication but also making work easier. For example, the addition of a stylized clock on the desk can both pull together the space and provide a reliable way to track the time. Below are some of our favorite accessories that could make your office space both more efficient and handsome.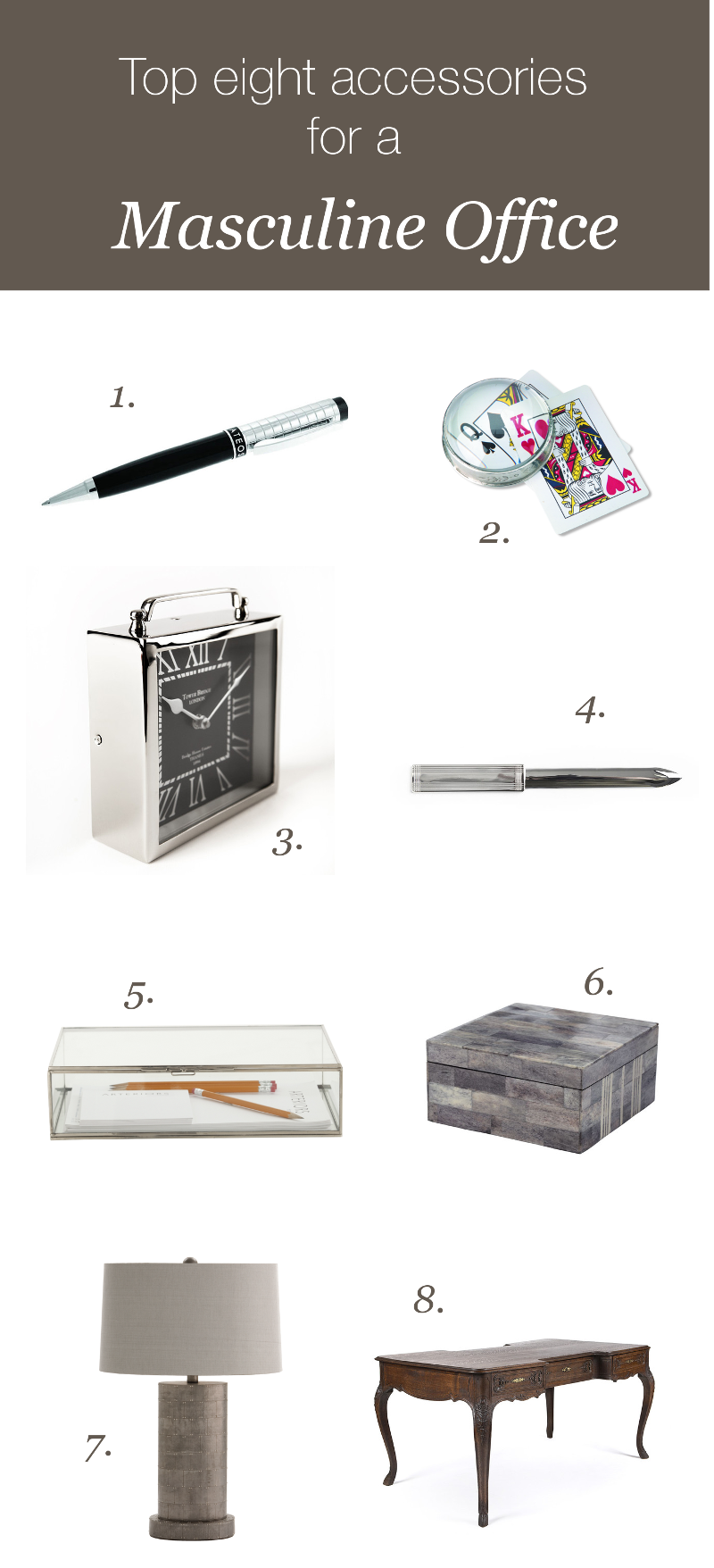 1. Quadretti Ball Point Pen // 2. Match Garda Magnifying Glass // 3. Tribeca Square Table Clock with Roman Numerals // 4. Silver Letter Opener // 5. Glass Document Box // 6. Gray and White Bone Box // 7. Oval Zinc Lamp // 8.19th Century French Oak Partners Desk
A stylish, well-equipped office begins with essentials like a classic antique desk and sophisticated lamp. As these are used every day, investing in quality pieces can make the office more welcoming. The addition of well-designed, chic tools in the form of a magnifying glass or sleek letter opener can significantly elevate the work space's appearance while making the work easier. Finally, document cases and understated boxes can make your desk a bright spot in your home while also providing much needed organization. These pieces can create a serene, focused atmosphere ideal for doing work.
If you want to see more masculine accessories, be sure to browse our favorite picks for him on our online boutique.
What do you need for the perfect home office?
---
One of the best ways to keep your office serene is to decorate it simply. Learn more about decorating simply by clicking below.