First impressions are of the utmost importance. Person-to-person, they reveal a lot about your personality and style. When it comes to your home, your entryway is among the first impressions a guest has of both your personal design style and you and your family.
Does your entryway tell guests that you are hospitable and gracious? Choosing the right furnishings, artwork, and paint can create a heartfelt invitation when guests arrive.
We've pulled together some of our most welcoming entryways to show you what you may want to consider to improve your own.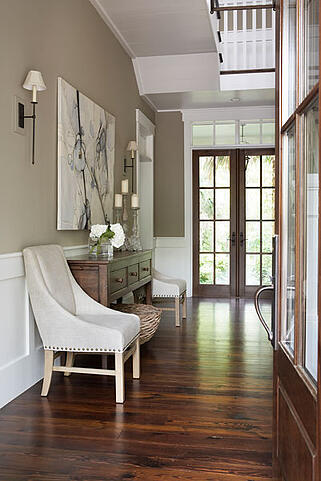 Soothing colors, soft and plush chairs, and a beautiful statement art piece welcome you into this entryway above. The mix of casual furnishings and neutral colors gives off a laid back vibe and encourages guests to come in and relax. The use of simple accessories imply a no-fuss attitude that the homeowners embrace.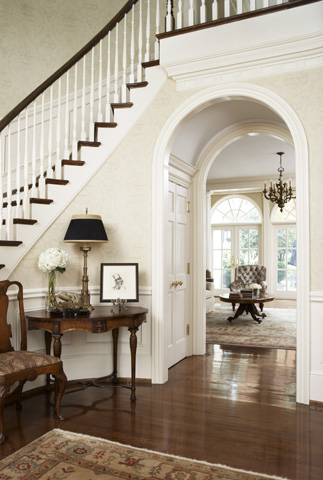 The traditional furnishings, wallcoverings, and architectural detailing in this entryway give guests the impression of familiarity and comfort. It's the right amount of formal to give guests the feeling of elegance but not enough to feel stuffy or stilted. One can assume from the style of this entryway that the owners like timeless design and aren't concerned with the latest trends.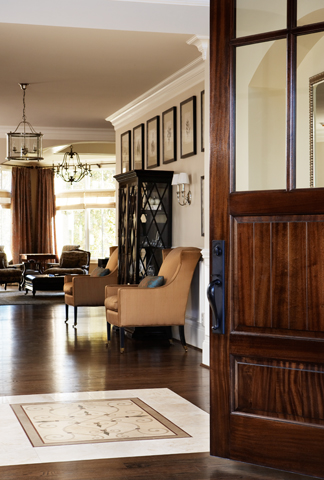 The open floor plan of this home makes the entry feel open and enticing. With the entryway opening up directly to a sitting area, it welcomes guests into the rest of the home. The furnishings placed along the interior wall of the space also beckon guests to come on in and make themselves at home.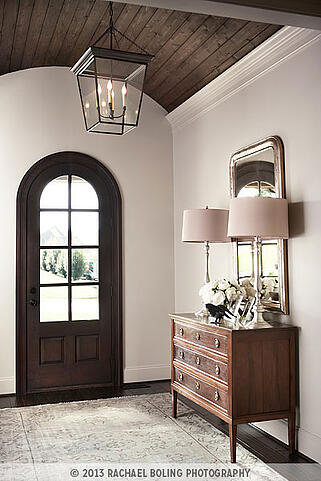 This next entryway embodies warmth and charm, something that instantly makes guests feel comfortable. The wood tone used on the ceiling, door, and hardwood floors not only adds warmth but beautiful texture to this space. The use of this casual pendant lantern makes the space feel less formal and more inviting.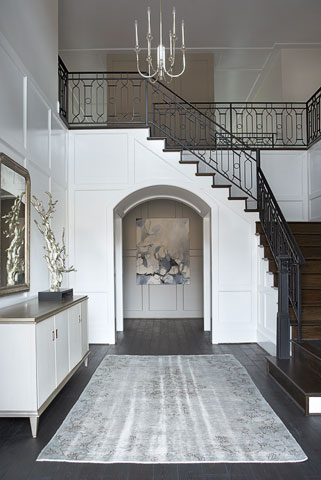 Last, but not least, this sophisticated entry tells guests that the owners have a keen eye for design. With design touches on every part of the space from the paneling on the walls to the intricate design of the stair railing, guests know they are in the midst of exquisite taste. Despite the elegant finishes, the entryway still welcomes guests with a plush foyer rug and engaging artwork.
Do you like the look of this welcoming entryway? Be sure to check out the Designers' Corner of our online boutique to learn how you can get the look yourself.
Photos by: Rachael Boling