The right mixture of patterns can turn a room from fine to fabulous. Including patterns in a room requires a delicate touch, conveying calm and peacefulness. The following shows how selecting the right pieces for your design can transform your bedroom into a relaxing, elegant retreat.
Patterns with subtle contrasts in color provide a soothing ambiance to a space. The patterns on this pillow and throw make the space ideal for rest and relaxation. Where brightly colored, polarized patterns would make a space lively, low-contrast patterns in subdued tones are perfect for making your home feel soothing. These barely-there patterns break up the space without drawing inordinate amounts of attention.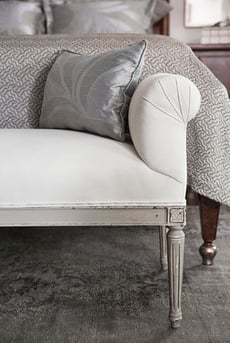 As is the rule with most design work, classic patterns are less likely to become dated over time, where more modern patterns could need to be replaced to keep up with the trending style. This room's antique, one-of-a-kind rug has a classic, timeless pattern that won't need to be changed out when the design world's tastes change. Don't shy away from including a few modern or trendy styles in your design - just remember to use them on easily replaced items like throws and pillows. Mixing a few modern patterns in with the classic can be a great way to add interest to a space.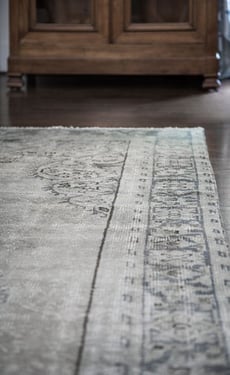 Another aspect to remember is that organic patterns, like those seen on the room's decorative pillows, further the calming effect created by low contrast colors. Curved edges don't trap the eye in any one place and give the room flow. Organic patterns don't have to mean strictly floral prints; use patterns that flow and have soft, rounded edges.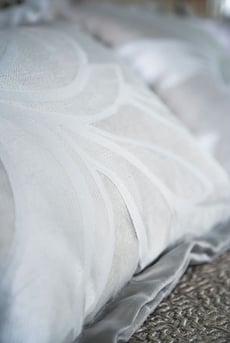 When choosing patterns, it helps to determine the size of your patterns relative to the space they will inhabit. If a piece is small, like a throw pillow, a similarly small pattern will give your design a feeling of effortlessness. Larger pieces of furniture or walls will appear more natural with similarly large patterns.
Keeping in mind the texture of your pattern can elevate your design to another level. As we wrote in another post, texture can become the focal point of a room, adding warmth and contrast to any space. Patterns can be a subtle, elegant way to provide a room's texture. In this bedroom, the combination of silky and matte fabrics that form the pattern of the drapes provides visible texture to the room without being overpowering. This textural detail serves as a unique, stunning feature in the room and draws the eye to the large windows where ordinary curtains might not.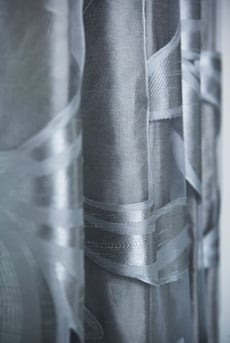 Mixing a combination of patterns in one space is an easy way to show your design skill. The combined patterns of the drapes, pillows, throw, and rug make this space shine. Don't be afraid to use many different patterns in a space, as long as you find ones that form a cohesive whole. When you are trying to find harmonious combinations for a soothing design, it is best to use patterns with similar contrast levels, ages, or textures. While you may fear making a room busy by using several different patterns in this space, this room stands as an example that a multi-patterned space can still be inviting and relaxing.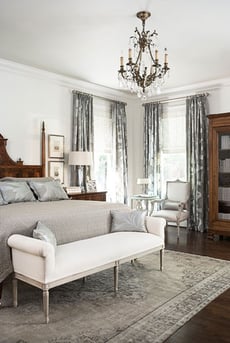 In the end, the right pattern combinations are the ones that make you love the space. Go out and make your home match your style.
---
What patterns do you incorporate into your designs? Do you prefer modern or classic styles?
Did you like the fabrics used in the design of this room? Click on the link below to learn more about selecting fabrics for a space.