You probably spent a lot of time in your outdoor spaces this summer. Whether it was a family get together or outdoor barbecue, your yard and deck have probably gotten a lot of use over the last few months.
But, now that cooler temperatures are right around the corner, now's really the time to take your meals outdoors. With fall-like temperatures quickly approaching, you will no longer have to worry about the blistering heat and pesky insects that can sometimes dampen eating outside.
Embrace eating outside for a while longer and be inspired by these inviting and beautiful outdoor dining spaces.
The key to a gorgeous outdoor dining space is the view. If you have stunning views of mountains, a lake or gorgeous landscaping, be sure to place seating and furniture toward the view for all to enjoy.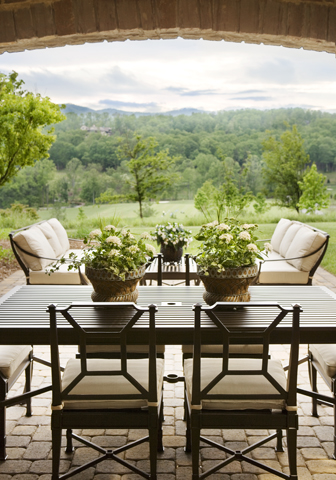 An outdoor dining space doesn't have to truly be outdoors to be enjoyed. A screened-in porch is a great way to enjoy the beautiful outdoors and enjoy casual dinners. This elegant alfresco dining space features casual seating and an outdoor living space perfect for entertaining a large number of guests.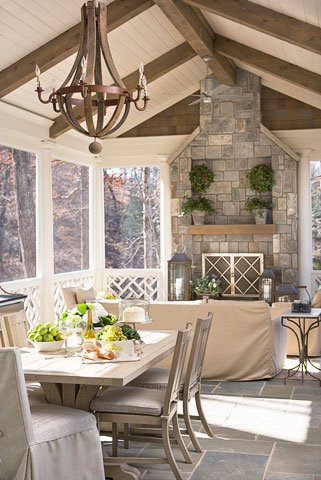 Here's another lovely screened-in outdoor dining space complete with a cozy outdoor fireplace and modern seating. The tiled floor makes the space blend with the interior living spaces, making you feel like your are inside with the benefit of the great outdoors nearby.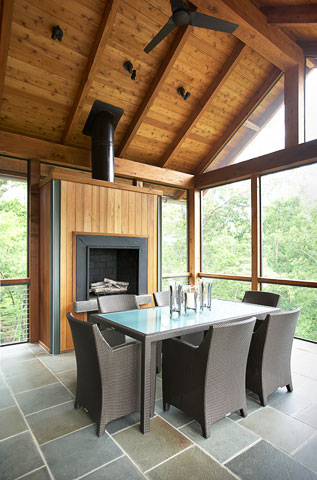 An outdoor dining area doesn't have to be large and grand. Simple built-in seating and a classic dining table are all you need to create a cozy spot in your backyard where the nice weather and a good meal can be enjoyed.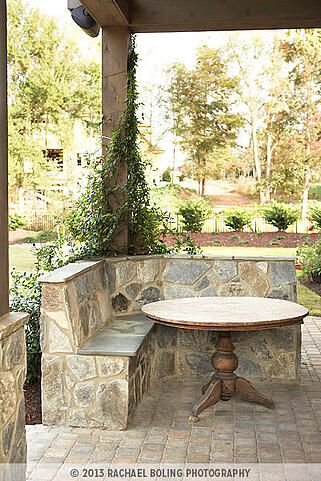 Another option for an outdoor dining space combines the covered look and feel from a screened-in porch but features open railings and views. This type of space protects you from the sun and elements but allows you to really feel a part of the outdoor surroundings. A built-in grill and copper hood finish off this space and make it truly spectacular.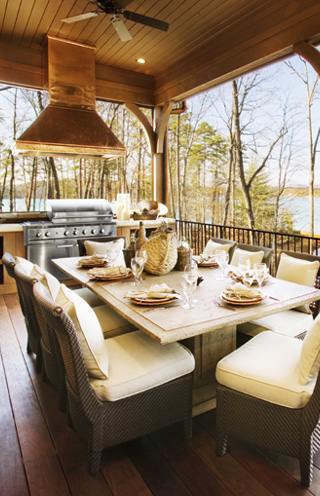 A wraparound porch also makes for a great dining area. Pull out your dining table and a few casual chairs and you have a front and center view of your surroundings and the cool breeze. Complete your table with fabulous dinnerware and serving pieces and gorgeous accessories for a more formal and elegant dining space.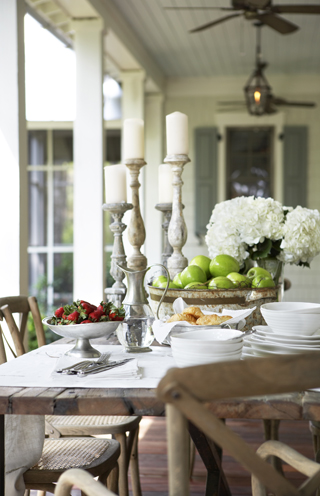 Like the look of this casual outdoor dining space? See how you can get the look yourself in our designers' corner of our online boutique.
Do you have an outdoor dining space you can enjoy this fall?
Photos by: Rachael Boling