One of the furniture brands Postcard from Paris designers rely on is Lee Industries. A company focused on sustainability, Lee industries has been making high quality furniture since 1969.

Why does Postcard from Paris like Lee Industries?
Lee Furniture is a friendly, down-to-earth small furniture manufacturer. Their products are at a good price point, they have quick lead times, and they have many fabric choices. We like the fact that Lee has such a variety of cushions with different firmness levels. Our clients can have the "Goldilocks Experience" and sit in many different seating options until they find one that is just right for them.
What makes Lee Industries' furniture unique?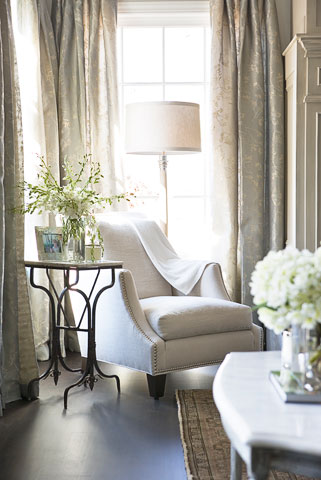 All of their furniture is handcrafted in the United States by experts in the field. Their production process is not automated and they rely on local suppliers for their products. Lee's production team has their hands on every step of their product's creation, so each piece is a work of art.
Is their company environmentally friendly?
Lee Industries is committed to sustainability. They are a member of the Sustainable Forestry Initiative, the Forestry Stewardship Council, American Forests, and the Sustainable Furnishings Council. They are committed to offsetting their environmental impact and have donated more than 87,500 trees in their green efforts.
They offer soy-based cushions and padding. The use of these soy-based cushions allows the company to conserve 57 gallons of oil a day. Lee's products do not have toxic flame-retardants. Their pillows are filled with recycled fiber filling and their metal components are recycled. They use low VOC (volatile organic compound) finishes and organic and natural fiber fabrics. All of these elements work together to make Lee one of the leading sustainable furniture producers in the U.S.
How can Lee's furniture be customized?
You can customize the products by changing the cushions' filling, selecting the wood's finish, whether or not to include nail heads, style of the casters, skirt folds, buttons, trims, pillows, and seams. With a little over a thousand fabrics and leathers to choose from, your furniture will reflect your style. And if none of those do it for you, Lee allows you to provide your own fabric. While not every product has all of these aspects (for example, dining chairs rarely have pillows), the furniture personalization potential is extensive. And if that wasn't enough, they also have a custom program that could potentially let you customize your furniture further.

What do you need to know to purchase Lee Industries furniture?
Postcard from Paris design clients can explore Lee's products online or take a trip with a designer to Lee's show room. One memorable experience a Postcard from Paris designer has had with Lee Industries occurred when, while on a trip to their showroom, our designer and her client got an impromptu tour of the manufacturing facilities from the president of the company himself. It is such personal touches that make Lee an incredible partner for Postcard from Paris.
What kinds of companies would you like to have featured in our partner spotlight next?
---
If you're interested in redesigning your home and think you would like to use furniture from Lee Industries, contact one of our designers by clicking the link below.