Whether you are hosting or attending, baby showers are a great time to catch up with friends and celebrate life. There are an incredible number of details to plan for a baby shower: games, gifts, snacks, and drinks. We thought we'd gather together some helpful ideas for your next shower.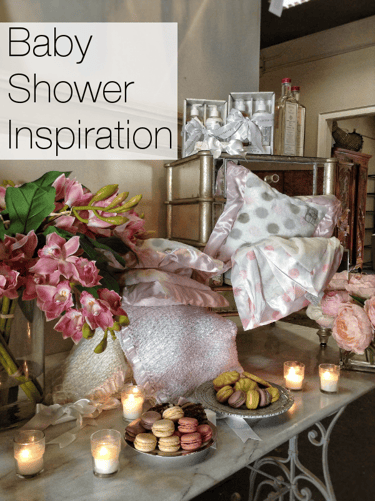 Try out these baby shower ideas for the perfect celebration with a Parisian twist.
Hors d'oeuvres Finger food is a nice addition to any party. Fresh, healthy recipes are a must for the expectant mother. To bring in hints of France, consider this Artichoke Parmesan Crostini recipe because it's healthy, quick, and sophisticated. You could increase the shower's 'wow' factor by serving them on a Michael Aram Botanical Leaf tray. When you aren't using it to entertain, it doubles as a decorative piece. If you're looking for a sweet treat to end the party, you might try some colorful macaroons. These Parisian cookies are big crowd-pleasers.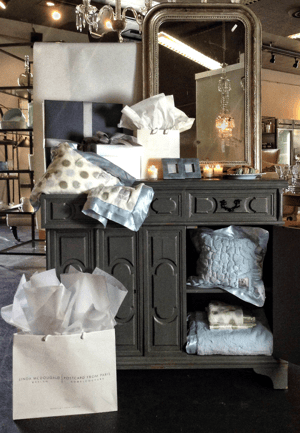 To drink It is important to remember that the guest of honor won't be drinking alcoholic beverages. As the host, you could consider serving only non-alcoholic beverages or, if that seems extreme, ensuring that the non-alcoholic alternative is a highlight of the party. Something fun like pink lemonade or sparkling grape juice can increase the air of celebration for non-drinkers. Give the featured drink a Parisian touch by serving it in a beautiful glass pitcher.
Sweet scents There is no easier way to elevate your party than by adding bouquets of fresh cut flowers to your table. Reminiscent of beautiful French gardens, bright blossoms in your party planning can add a touch of Paris to your baby shower. Every get-together can be given that extra touch with some blooms from your garden, the grocery store, or a florist in a stylish vase, like the Michael Aram Wisteria Vase we offer in our retail boutique. You can even make your bouquet out of baby socks and onesies. To learn how, try this tutorial.
Games A great way to celebrate the new arrival is to play fun shower games. This list has a wide variety of game ideas to choose from. Keep in mind the preparation time and amount of space any individual game will require. For example, their "Pregnant Twister" game will need a large cleared space on the floor and guests who are prepared to be active. "Guess the Baby Photo" would take much less space, perhaps just a string on the wall with some numbered clothespins and pens and paper for guests' guesses, but it still requires that guests bring a photo or send one in advance.
Gifts One of the best parts of the baby shower is giving the expectant mother fabulous baby gifts. These much needed items save the new parents the hassle of buying everything at once and are a great way to show your excitement for the new arrival. Help your shower run smoothly by setting up a beautiful table for guests to place their contributions. The following are some of our favorite baby gift ideas from our retail store on Main Street in Greenville, SC where you can pick them up today.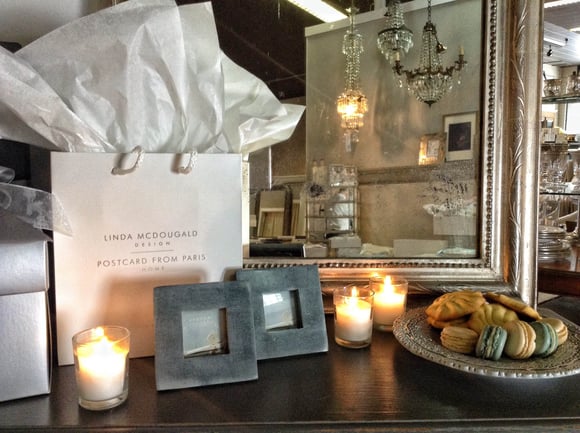 We hope these shower ideas will help you plan an elegant, memorable get together for that special mother-to-be. For more Parisian baby shower ideas, try the Bump's Paris themed baby shower list. How will you make your next baby shower special? Share with us in the comments below.
---
If you are concerned about getting your home decor ready for guests, check out these five tips for an understated look.