We all have those friends in our lives that seem to have everything. They buy things for themselves when they see something they want and leave their friends and family at a loss for what to buy them this time of year. For someone who has everything, you want to get them something special - something unique that they don't already have.
We're pleased to let you know that we have many unique and special gift options available in our online boutique that are perfect for the friend who has everything.
Here are just a few of our favorites.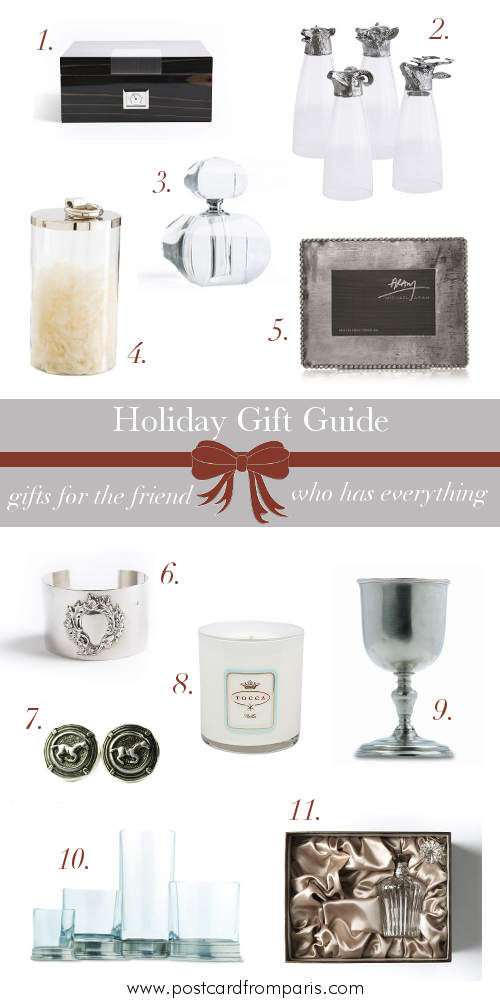 1. 60-Cigar Box // 2. Arte Italica Animale Assorted Pilsner Glasses // 3. Modern Morocco Glass Perfume Bottle- curved square // 4. Steel Top Glass Container // 5. Michael Aram Molten Frost Frame // 6. Antique Napkin Ring Cuff // 7. Silver Cufflinks with Authentic Ralph Lauren Horse Button // 8. Tocca Candle // 9. Match Chalice // 10. Match Double Old Fashioned Glass // 11. Antica Farmacista Luminoso Decanter Gift Set
Be sure to browse our entire gift collection in our online boutique for additional gift ideas for your special friends.
If you are local, visit one of our two retail boutiques to see these and many more gift ideas and options this holiday season.