Christmas is only seven days away and that means the pressure is on to finish up all of your holiday shopping. If you haven't gotten all your shopping done though, there's no need to fret.
In both our retail boutiques and online boutique, we have many items in stock and ready for immediate purchase.
Here are just a few gift ideas if you are a last-minute shopper - for home, for her, and for him.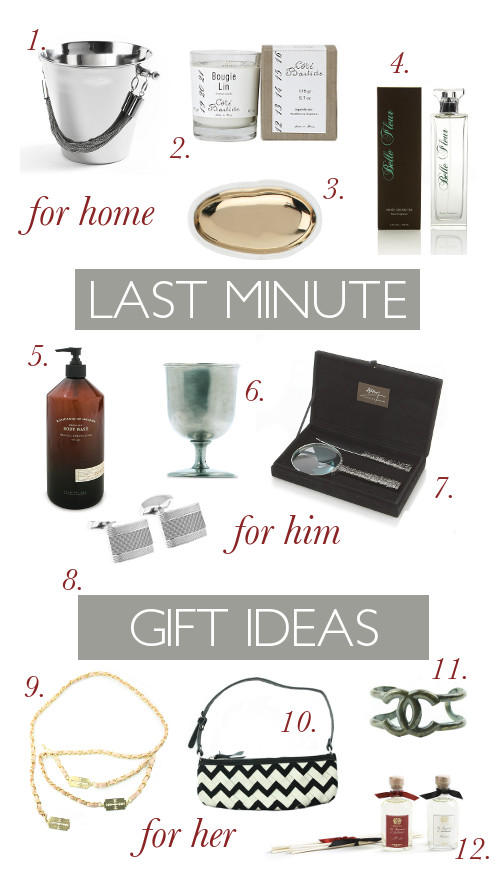 1. Chained Ice Bucket // 2. Cote Bastide Candle in Box // 3. Pebble Dish* // 4. Belle Fleur Room Spray // 5. Archipelago Boticario de Havana Body Wash* // 6. Beer Goblet* // 7. Michael Aram Gotham Magnifying Glass & Letter Opener // 8. D-Shape Cufflinks // 9. Chanel Gold Leather Chain Belt // 10. Armani Suede Clutch // 11. Bronze Chanel Bracelet // 12. Antica Farmacista 100mL Gift Set
If you need some help in pulling together some gift ideas for the cook, entertainer, wine-lover or spa-lover in your life, we have pre-made gift baskets available at our downtown retail boutique.
For online orders, please note that UPS cannot guarantee package arrival for orders going UPS ground placed and shipped after December 17. Please visit our shipping policy page for shipping deadlines.
*available in our downtown retail boutique