This week on the blog, we continue with getting to know the rest of the Postcard from Paris Home team. Up next is Nevva McLerran. Nevva has been with Linda McDougald Design | Postcard from Paris Home since October 2002 and serves as our downtown boutique's retail specialist.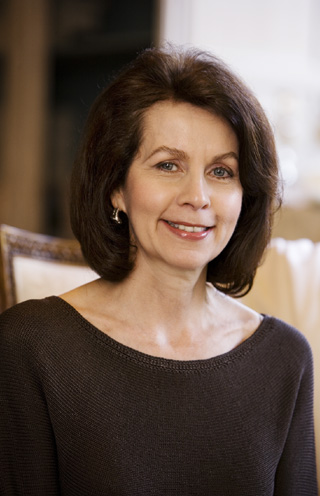 1. What led you to joining the PFP retail team? I have always enjoyed decorating and I love French and Italian furniture and accessories so I loved the idea of being immersed in beautiful things on a daily basis. Working at PFP has been a pleasure.
2. What's your favorite product line we carry? I love Arte Italica. I love the heirloom quality of Arte Italica and love knowing that my daughters and granddaughters will one day covet it as much as I do.
3. What's your favorite thing about working on the retail team at PFP? Meeting new people and seeing how they enjoy coming to Postcard from Paris to see all the lovely furnishings and fragrances for the home.
4. What's your favorite item or accessory you own? My Louis XIV french sofa. I love the carved wood and simple, curved lines. I've had it for at least 15 years and got it from the most wonderful tiny antique shop.
5. What's one of your New Year's resolutions? I can't wait to renew my fitness regime now that the holidays are over!
6. What do you enjoy doing outside of work? Entertaining friends and family in our home.
7. If you could travel or go anywhere, where would it be? I would love another trip to France and Italy.
8. What is an accomplishment you are most proud of? I am most proud of raising two beautiful and blessed young daughters who have brought me so much joy and two granddaughters!
More about Nevva: With more than 15 years of experience in the creative arts of floral and interior design, Nevva has an innate ability to add an extraordinary touch of beauty and elegance to any project. Prior to Postcard from Paris, Nevva served as manager of several local design shops in Greenville. She and her husband, Arnie, have two daughters.