---
As the weather heats up, it's time to get outside again. Outdoor spaces can be a fun place to flex your design muscles this spring and add value to your home. To make the most of it, here are five common mistakes to avoid when designing your outdoor spaces.
---

1. Waterproof fabric does not equal outdoor cushions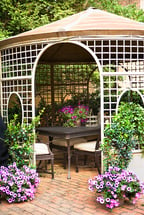 A common mistake made by some is believing that cushions made with waterproof fabrics and traditional stuffing will function in the same way as outdoor cushions. Where outdoor cushions are designed to let the water run through them without staying wet or wearing out, waterproof fabric holds water at its surface until it is wiped off or evaporates. When used on cushions left outdoors, waterproof fabrics keep rain water or dew in one place - atop the cushions - often leading to mold and seriously detracting from your outdoor furniture's appeal. Additionally, this barrier is not always perfect over a long period of time, so the cushion's stuffing can sometimes get wet and hold this moisture like a sponge.It's best to get cushions intended to deal with water or, if you are serious about your DIY, be sure to use fabric and stuffing material specified for outdoor use not just noted as waterproof.
2. Avoid being matchy
You don't have the same fabric on every item inside your home so why would you do that outside? Many homeowners decide to design their outdoor spaces with a single fabric on every surface. This can look flat and uninspired. Instead, mix and match fabrics and patterns. Your pool chair cushions don't need to be done in the same fabric as the stools at your barbecue station or the benches on your screen porch. Different fabrics can be a great way to designate spaces for different functions or highlight a feature in your backyard. Emphasize the beautiful fire pit with a brighter but complementary color. Using a range of fabrics that work together as a whole can add serious class to your outdoor space.
3. Tie back your outdoor drapes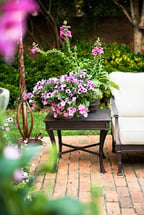 A new trend for outdoor spaces is outdoor drapes. Using durable, all-weather fabric, you can add more color and style to your porches and seating areas. But you should be sure to include a way to tie these drapes back when the weather gets tough. Even outdoor spaces that you're sure have no wind at all can find themselves suddenly breezy after you've hung an outdoor drapery. In these situations, you must be careful not to have the fabric catching or rubbing on wood and tearing. You also run the risk of smaller plants or delicate decor on nearby tables being knocked off and broken by windblown drapes. Some drapes come with weights in the bottom to help with these issues, but these are often not enough. Simply include a tie back in your design to save yourself a lot of heartache when bad weather rolls in.
4. Your outdoor lighting needs to be designed for the outdoors
Even if you are choosing a floor lamp for a sheltered spot under a deck or on a screen porch, you need to ensure the piece is meant for the outdoors. Lighting designed to be inside a home is not prepared to withstand the rapidly changing temperatures, humidity, and moisture of the outdoors. Often indoor pieces left out in these conditions will simply stop working and need to be replaced. In more serious situations, you run the risk of fire or being shocked. As much as you think that table lamp would look great on the patio, stick to lamps meant to withstand outdoor conditions and stay safe.
5. It doesn't have to be from the same place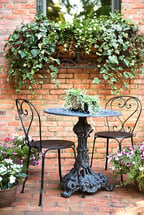 While many outdoor furniture suppliers technically offer all of the pieces you could need to fill your space, mixing and matching from multiple lines can help you avoid a cookie-cutter looking space. You don't need to buy all the furniture from the same store to keep the "style" of your furniture the same. Different brands or different lines can actually complement each other where using one brand can make the space one-note. If you love the stools and tables from one store and the lawn chairs of another, careful design decisions can combine the best of both brands. Multiple lines mixed together, when chosen carefully, can personalize the space for you and add to the design.
---
The outdoors can be a great space to express your style. Keep these simple ideas in mind when redesigning and your outdoor spaces will shine.
What questions do you have about decorating your outdoor space?
---
For more help designing the exterior of your home, view these tips: