Father's Day is a special time to celebrate the hard-working men in our lives. Giving Dad a present is fun, but sometimes thinking of an appropriate gift is hard work. So, to help get your creative juices flowing, here are ten gift ideas that might be the perfect thing for the father in your family.
We have selected gifts that can add old-world class to your Dad's lifestyle. These simple luxuries are visually appealing, masculine works of art. Form and function combine in the gifts we've chosen; these items will work efficiently in your father's daily routine.
Here are our top ten gifts for Dad, available in our online boutique.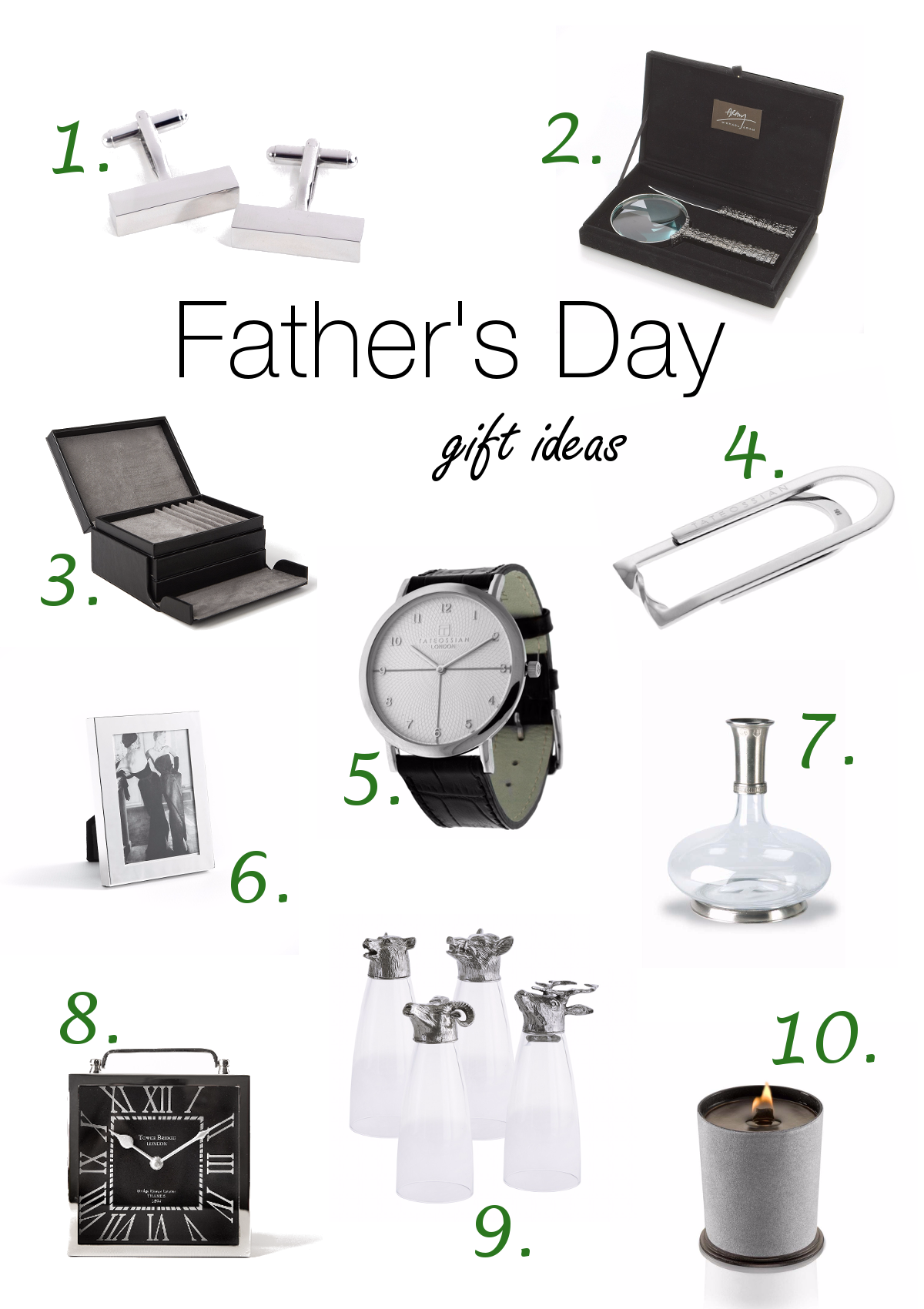 1. Infuse class into your Dad's suits with these rhodium-plated cufflinks. The classic style and silver color go with every outfit, so they can be used every day.
2. Let him settle in with his correspondence with this Michael Aram Gotham Magnifying Glass and Letter Opener. This set is an easy way to add style to his daily routine - and his desk.
3. Another elegant yet functional Father's Day gift is this valet box. He can organize his pens, cufflinks, and watches in a piece that exudes maturity and sophistication.
4. An unusual item to give your Dad is the money clip. Clips like our Silver Money Clip can help trim down a wallet and make Dad feel special on a night out.
5. A sleek new timepiece, like a Rotondo Guilloche Watch, could put a spring in your Dad's step.
6. Remind him how much you love him with a framed photo for his desk. A classic silver picture frame will display your shared memories without taking over his space
7. For the wine loving dad, a shiny, new Match Wine Decanter can allow him to indulge in his passion. It aerates the wine and allows Dad to pick the vintage.
8. If you're looking for something eclectic, consider giving your Dad this Tribeca Square Table Clock. The roman numerals and polished chrome finish can work anywhere in the home, from a bedside table to a home office.
9. These rugged Animale Pilsner Glasses would be a beautiful addition to his man-cave. The assorted animal heads can decorate his space and Dad can flip them over to enjoy a glass of beer.
10. Something as simple as a masculine looking candle can transform his space with a light new scent. Linari Candles come in subdued grey Italian glass containers and infuse his room with pleasant, complex scents.
How are you celebrating Father's Day?
---
If you want to give him the gift of a redesigned home, click the button below to contact one of our designers.