The holidays are almost over - at least, the holiday rush has come to an end. You shopped til you dropped, wrapped more presents than you can count, and managed to send out dozens of holiday cards. In other words, you are exhausted. To reward yourself for everything you have done over the last month, take some time for yourself. Whether it's a girls' night out or a night out with your spouse, it's time to put on your best attire and let loose.
We've rounded up everything you need to have a truly spectacular night out on the town.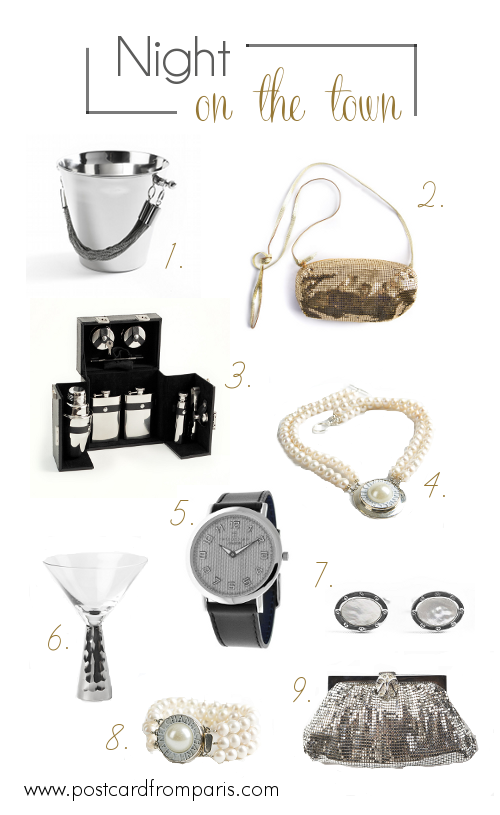 1. Chained Ice Bucket // 2. Vintage Whiting & Davis Mesh Bag // 3. 10-Piece Barware Set // 4. White & Silver Double Strand Necklace // 5. Carbon Watch // 6. Platinum Verglas Cocktail // 7. Silver & Pearl Cufflink // 8. Silver & Pearl Triple Strand Bracelet // 9. Vintage Whiting & Davis Silver Mesh Clutch
With it being New Year's Eve, it's the perfect occasion to get dressed up and go out for the night. Whether it's the cufflinks for the gentlemen or the gorgeous jewelry for the ladies, wearing these items will make you look and feel fabulous for your special night.
Invite a few people over to watch the ball drop and celebrate the new year with some of these fabulous bar items as well.
What are your New Year's Eve plans tonight?
Special note: While you are out enjoying yourself this evening, please remember to drink responsibly. If you plan to drink, plan to have a designated driver or other means of transportation to get you home.