Aging in place, where you stay in your home and community as you grow older, can be made easier by implementing a few design concepts today. The following are some ideas to consider next time you redesign your space.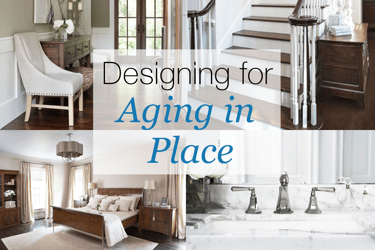 Redesigning your home allows you to customize your living space for the lifestyle you lead now, be that having the perfect guest room for when your nephews stay over or converting a room in the basement into an up-scale wine cellar. But it is also a good time to ensure that your home will work for you as you grow older. The recent call for homes that allow you to age in place, rather than being forced to leave if your or your loved ones' mobility decreases, has sparked a new design focus. Every home is different, and not every design concept is going to be right for yours, but there are few few simple ideas that could be helpful in your home. Check them out below.
Easy to reach bedroom.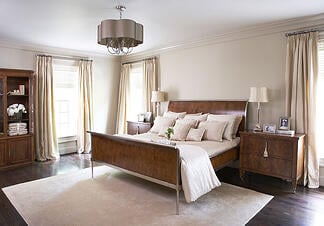 It can be nice to have a master bedroom or guest bedroom on the second floor. However, if you or your parents should begin having trouble climbing stairs, having a main level room that can be used as a bedroom would be incredibly helpful. Simply knowing which room you would convert can make a transition in the future far easier. This space doesn't even have to be kept as a bedroom before you need it to work as one. Instead, just keep any design decisions for that space something that could work if it became a bedroom. For example, you could use the space as a home office, but you might avoid installing wall-to-wall built in bookshelves for the office space because they wouldn't look right in a bedroom.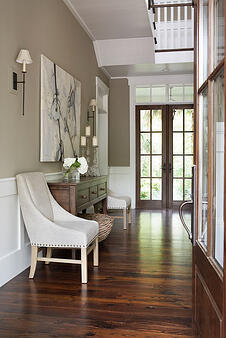 Wide doorways and halls.
Spacious halls and doorways can make your home feel open and airy. An added benefit of large halls and doorways is that if you or your relatives find yourselves needing assistance getting around, it is helpful to have enough clearance in the hall for a walker or wheel chair. Doorways that are 36" wide are more accessible to people who need assistance walking. If you are designing a home from the ground up, choosing large doorways and halls throughout the home can be both an elegant design decision and make your space work for you for years to come. If you are redesigning an existing home, you might consider widening the important spaces on the main floor. This type of structural work isn't always possible, but can make your home more accessible.
Lever-style handles.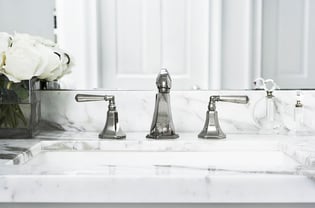 As you age, turning door knobs and sink faucets can become trickier. An easy design concept to make your home usable for people of all ages is to choose lever-style door handles and sink faucets. These are easier on the hands than round knobs and come in such a wide variety, you are bound to find some that match your style. Selecting these handles during a redesign before you need them could prevent you from having to replace relatively new knobs later.
Accessible showers.
If you are designing new bathrooms or seriously overhauling an existing one, a design element to keep in mind is the curbless shower. Showers that do not have a tub base or lip around the bottom allow people with lower mobility to get in the shower unassisted. In curbless showers, carefully placed drains or gentle slopes prevent water from spilling across the bathroom floor. An additional aging in place design feature for the shower to consider is the grab bar. While these have typically been very utilitarian in the past, some grab bars have been redesigned to better go with your decor. However, grab bars could be unnecessary in your home for several years and would be relatively easy to have installed later. Instead of putting them in during your next redesign, you might simply ensure your shower's construction includes some extra blocking (a wooden frame in the wall used as a nailing base) that could support a person's body weight if you do eventually install safety grips.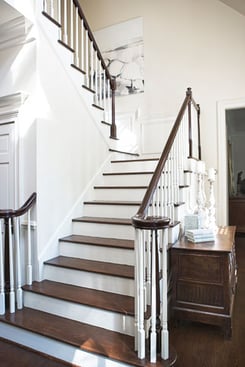 Sturdy Stairs.
When considering the aesthetics of your stairways, one feature that will increase the future livability of your home is great lighting. Sometimes we don't emphasize halls and stairwells when thinking of lighting, but it can make a typically underwhelming space stand out while simultaneously making them safer for older adults. Check out our lighting post to determine what set up would make your stairs shine. Additionally, ensuring that the railing is sturdy can make your stairwell work for you down the road.
Luxurious Amenities.
An additional, luxurious design idea that would go the extra mile to make aging in place comfortable would be to include an elevator. This ensures older adults or those in wheelchairs would be able to reach all the levels of your home. This can be an expensive feature though and might be more easily done at a later date after some preparation today. To do this, some homeowners design their homes to have a series of closets on each floor, lined up vertically, that could be converted into an elevator at a later date. And whether or not you decide to convert the closets into elevators, in the mean time you have an extensive storage area on each floor. While converting the closets could be a costly project, this would make a multi-story home accessible in advanced age.
These are just a handful of the myriad ways you can subtly or drastically alter your home's design for the aging process. Do you have any helpful tips to share or questions you want answered? Leave them in the comments below.
---
Fall is nearly here, why not check out these five ways to prepare your home?