Determining the best size rug for your space can be a strenuous process. There are a few guidelines that could make your rug sizing experience a little easier. To help you out, we've gathered some of our favorite tips below.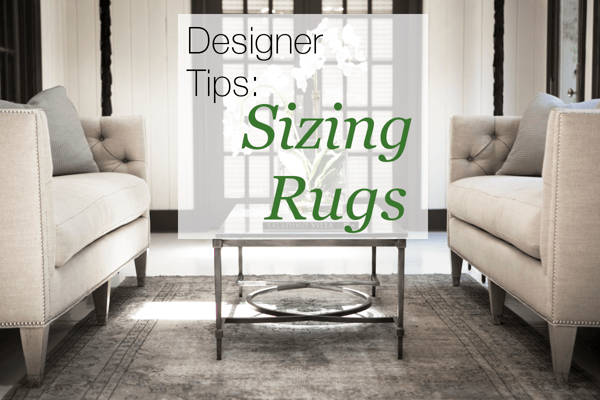 We've discussed some of the factors that go in to selecting a rug for your home in the past. Here, we focus on tips that can help you know what size rug would best fit your space.
Plan your furniture layout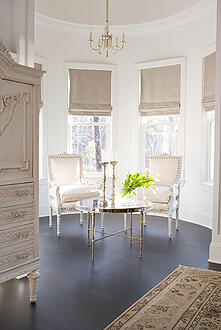 How are you going to use the spaces in your home? Knowing where you are going to have sitting areas and your dining table's orientation are important steps in the rug sizing process. At the simplest level, this is a good way to know how many rugs you need for your home. If you have an open floor plan and want to designate different sections for different functions, a rug can pull together the furniture in these areas, marking them as their own unique spaces. This does not mean that each area in your home needs its own rug. Some spaces, like this conversation nook, are lovely without their own rug and are still identifiable as their own area because they are not included on the carpet in another section of the room.
Check out the legs
Once you know the furniture's layout, use the legs of your pieces to determine the smallest carpet your space could use without looking cramped.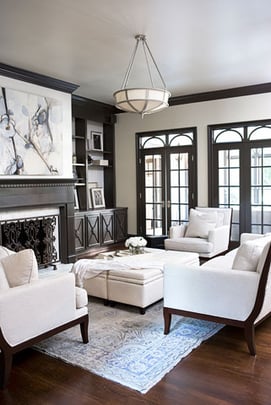 One common look is an area rug that will hold all of your furniture, with all legs of every piece resting on top of the rug. This style looks gorgeous when you leave some carpet to border the space but without excess carpet running into the wall. This layout avoids breaking up your conversation space, which can happen if you buy a carpet that is too small and need to leave one or two pieces of furniture off of the rug. It gives the room a luxurious feel and is especially beautiful for groupings of furniture in the center of a room that will be seen from all sides.
However, this is not the only way to dress a space. A rug that allows you to put only the front legs of your furniture on the carpet is another tasteful option. This style works especially well in spaces where a large portion of your rug would not be visible beneath large furniture, like a couch resting against a wall. The "front legs only" style is still an effective way to pull together a space and because the larger a rug, the more expensive it is, this style is easier on your budget. This living room looks elegant with all of its major furniture grouped around this classic, antique rug.
Special spaces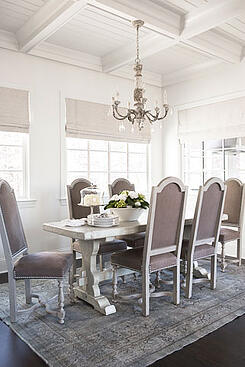 Rugs for spaces like living rooms can be measured using only the existing location of the furniture. But some areas have extra ideas to keep in mind.
Dining rooms benefit from leaving enough space around the edges of your table to pull the chairs out. Family and guests will appreciate being able to sit down without their chair wobbling on and off of the rug. With this in mind, consider measuring with a dining table's extra leaves in place. This ensures that when you entertain the rug is still the appropriate size.
Bedrooms often have rugs start just in front of bedside tables and run down past the end of the bed. This classic style frames the bed without wasting carpet under bedside tables. Choosing this look allows you to use a slightly smaller carpet, which is especially helpful in homes with large beds.
Mindful measuring
The best thing to do before looking for rugs for your home is to measure the space in which you want to place a rug. Having your rug come up short or be too big for your room can be an expensive mistake to correct. Using your furniture layout, you can determine exactly what size rug would best complement the area instead of going to the store with a rough estimate.
Many rugs come in standard sizes. Finding the dimensions of the area you want to cover and rounding up to the nearest standard size is one of the simplest ways to add a rug to your room. If you are working with an unusual space, a custom-sized rug might be a better option. Some carpet manufacturers will make a rug based on your unique needs, but this can take longer and be more expensive than purchasing a standard rug. Once you know what size you are looking for, or that you are going to seek a custom-sized rug, you are free to go out and shop for a piece that will highlight your style without worry that you'll end up with a rug that doesn't fit your space.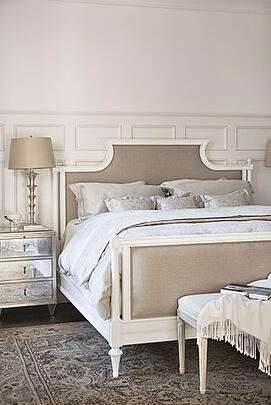 Bonus tip:
When you do find the perfect rug, consider rotating it once a year for even wear and tear. Many things, including sunlight, foot traffic, pets, and everyday use can make a rug wear unevenly. A simple rotation every year (or more often in highly used spaces) can make a rug last longer.
Check out our selection of rugs on our online boutique. What interior design problem would you like help with next? Let us know in the comments section below.
---
For more tips on choosing the right rugs for your home, click the button below.