Fresh flowers are an excellent way to bring some life into your home. Whether as a centerpiece on your table, a display in your foyer, or just as a little pop of color in your bathroom, fresh flowers are a classic finishing touch for a space. Knowing what style of flowers would best fit your design takes a little bit of technique. We will describe how to arrange flowers that are low, medium, and tall and explain how these heights can have the most impact.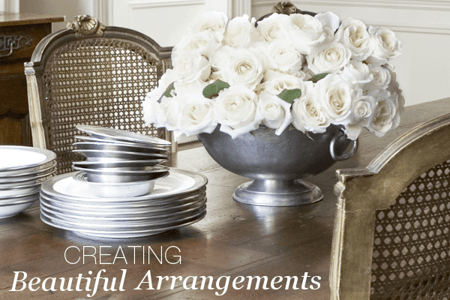 Flowers are an effective way to bring nature into your design. While every flower has its season, you can never go wrong with a beautiful bouquet in your home. These bunches of blossoms come in a vast variety of shapes and sizes, colors and fragrances. To make things simple, we've gathered tips on how to make and where to use small, medium, and large bouquets, as well as offer beautiful faux-flower alternatives from our retail and online boutiques for those who want perfect flowers without the effort of creating them.
Petite Blossoms
Small flower arrangements are nice for simple vignettes, an accent in your bathroom, a fresh feature on your desk, or even as a bright spot in your bookcase. These little arrangements are at their best when displayed in equally small containers. Your bathroom would shine with the addition of elegant individual blooms in cups or a floating blossom in a bowl of water.
For small flower arrangements, you can create simple one-blossom designs in minutes. A series of colorful, petite flowers in individual containers that have been grouped onto the same surface can act in unison like one larger bouquet that allows each flower's beauty to be seen.

If none of your garden's blooms seem ready for display, consider our beautiful natural botanical white roses in silver julep cups trio. The silk flower is very realistic and will not require updating from week to week. This arrangement can be a year-round solution for those who prefer the ease of natural botanicals in their home designs.
Medium-height Sprays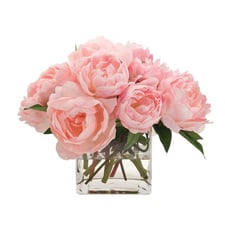 Arrangements of an average size are anything but dull. These colorful bunches can be placed on nearly every surface in the home and are especially nice on coffee tables, kitchen counters, and porches. Vases made of glass, porcelain, or sculpted metal can all be an artful element of the flower arrangement's style.
If your arrangement is intended to be the jewel of a party and the flower-gathering deadline is approaching faster than you thought, you could try one of Postcard From Paris's Peony Bouquets in a glass cube vase. Always picture-ready, these silk peonies are a cheerful addition to any coffee table or foyer.For a medium-height arrangement, consider this tutorial for creating a dome of roses in a bowl. These beautiful domes of flowers are classic and look stylish from all sides. The arrangement described uses one color and is an effective way to highlight your favorite flower species.
Tall Bouquets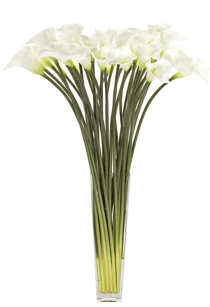 Bold, large displays of flowers are at an advantage in large spaces that allow them to shine. Mantles, formal dining tables, and large foyers can most easily allow these impressive bouquets to spread out and be seen. Sturdy, stable containers are a must when working with tall arrangements because without the proper vessel these flowers can become unsupported and droop or, worse, make their container unbalanced and prone to toppling over. Artful solutions for the large bouquet are heavier pots or even a beautiful pitcher.
While a truly magnificent tall bouquet can be inspiring, an arrangement of elegant white calla lilies in a glass square vase would be a graceful, simple alternative that requires less maintenance. When creating a tall bouquet, keep in mind these elements: the thriller, the filler, and the spiller. The thriller is the tall, bright centerpiece of the bouquet. The filler is typically greenery or more subdued flowers that support the thriller's beauty. The spiller drapes over the outer edge of the container, acting as a brace for the other two flower types. These terms are typically used when filling a container garden but can be great design elements for your bouquets. This tutorial for gladiolas explains how to work with tall flowers in your arrangements.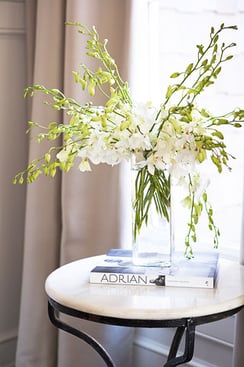 We hope these tips inspire you to go find some dazzling blossoms. What flowers do you love to accent your home with?
---
Like the idea of using your new-found flower arranging skills on a dining table? Click on the link below for tips for the table setting tips to make the most of these tips.