September is the best time to pick up some new fashion accessories for your fall wardrobe. A great statement piece can transform your look and effortlessly express your style. Our accessories from our Jewelry for Fall collection allow you to highlight your love of fashion.
As the weather begins to cool off, you begin to spend more time out at seasonal events. Some of our favorites are football games or festivals like Fall for Greenville. These events can be an opportunity to change up your look and add bold fashion pieces. We've pulled together some of our favorite accessories that we think could add some pop to your fall style.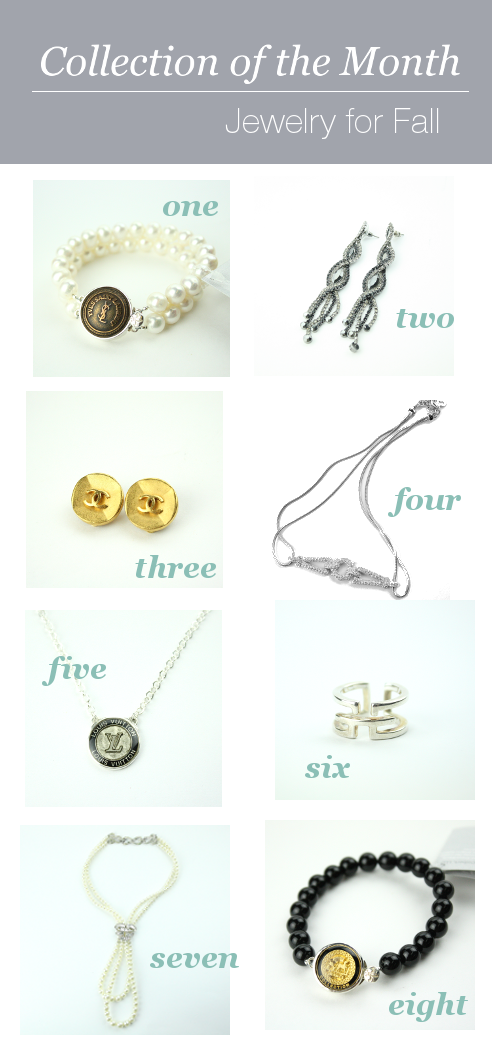 1. Bronze Double Strand Bracelet with Authentic Yves Saint Laurent Button // 2. Vintage Jett Dangle Earrings // 3. Textured Matte Gold Clip-On Earrings with Authentic Chanel Button // 4. Vintage Christian Dior Faux Diamond Necklace // 5. Silver Strand Necklace with Authentic Black and Silver Louis Vuitton Button // 6. Gabrielle Geppert Ring // 7. Vintage Double Strand Lariat Necklace // 8. Black and Gold Black Single Strand Bracelet with Authentic Hermes Button
This collection of jewelry for the fall features antique fashion label buttons and simple, sophisticated lines. These tasteful pieces are an excellent way to elevate your wardrobe with vintage style overnight. Made of high quality gold, silver, pearls, and antique buttons, these pieces are sure to remain staples in your accessory collection for decades.
Be sure to browse the entire Jewelry Collection on our online boutique.
What's your favorite accessory for autumn?
---
For help styling accessories, click on the button below for tips.