We are honored to be a part of one of Greenville's most fashionable events again this year, Fashion on the TOWN. For those that love to shop and love a girls' night out, Fashion on the TOWN is the ultimate event.
Now that it's fall, it's the prefect time to stock up on a new pair of boots, a cozy coat, and new items for your home. And this two-night shopping crawl is your chance to do just that.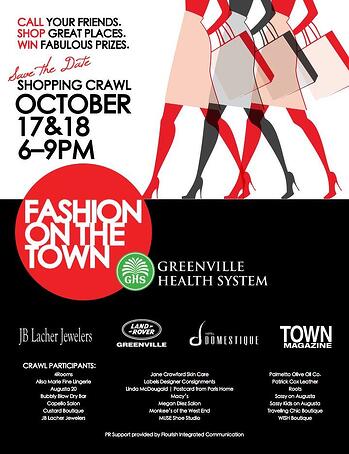 Fashion on the TOWN will take place in downtown Greenville October 17 and 18 when a number of participating boutiques will keep their stores open for extended hours exclusively for shoppers participating in the fashion crawl.
During the event, shoppers will each receive a special Fashion on the TOWN Passport full of special offers and discounts for the various participating shops.
In addition to a fun shopping experience with your girlfriends stocking up on items to add to your wardrobe and home, the event also includes a storefront window contest. Now through October 9, participating retailers will present their styled storefronts, incorporating a Fashion on the TOWN theme and certain required elements. And the best part is that you, the shoppers, get to vote for your favorite storefront window!
We've worked hard on our display, and today, we thought we would show you a few pictures and reveal the concept behind our windows.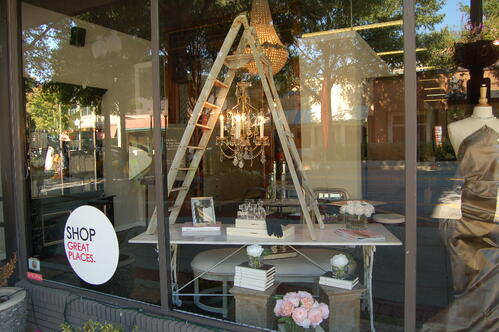 The premise behind the event is to give women a chance to have a fun night out with their girlfriends. We wanted our window display to tell a story of a glamorous girls' night out, incorporating some of our favorite retail items.
Imagine you are in Paris with several of your girlfriends. There is a fabulous dinner party down the street that you have been invited to. You decide to make a night of it and embrace the magic that surrounds you in this romantic city.
The story starts with getting ready. You and your girlfriends decide to don your best, accessorizing to the fullest with your most luxurious perfume and a fabulous pair of gloves.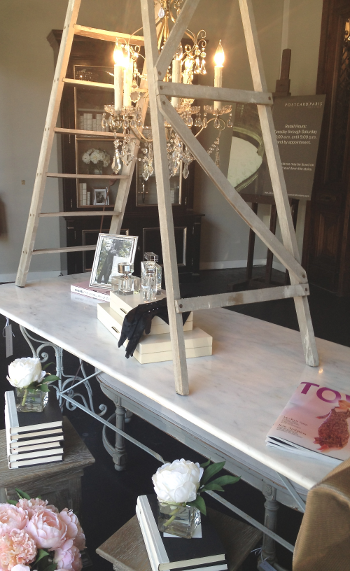 Your gown is voluminous and enchanting and is sure to turn heads. You put on your favorite diamond necklace, something you only wear on extra special occasions.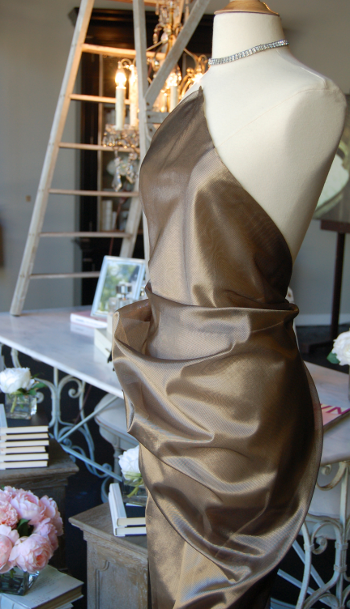 Everybody is ready, and it's time to head to the dinner party. This isn't an ordinary dinner party. The home is filled with stunning crystal chandeliers amidst exceptional architecture. The home's beauty takes your breath away.
Guests are mingling around with creative cocktails and the most amazing red wine. An hour later, guests are served Parisian appetizers and French-inspired entrees. You savor each and every bite until there is none left.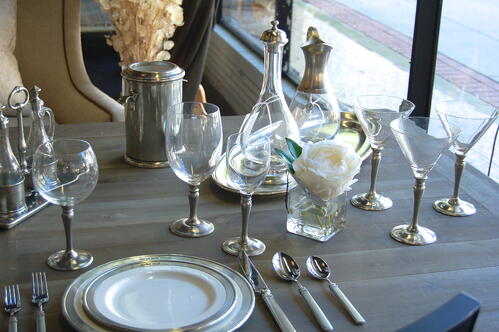 You meet several other glamorous French women while you are there. You and your friends ask them all about the latest Parisian fashions and their favorite parts of the city. You are enthralled with their beauty and the air of sophistication that surrounds them.
You set out to take in every moment of the experience. Sip a cocktail or two, splurge on a new dress or bag, select a new piece of art for your home, pick up a gift for yourself (or your husband or kids). Remember how this evening looks and sounds and smells and feels – and enjoy every minute of it.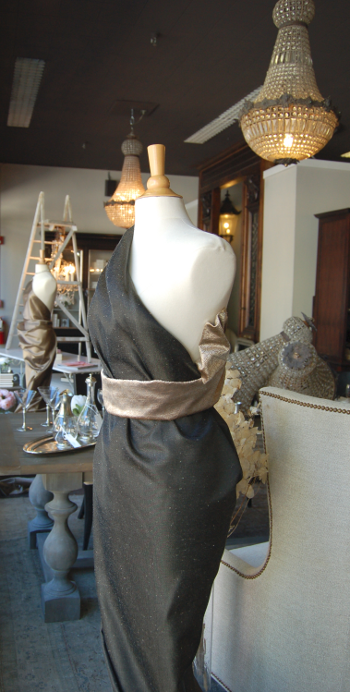 Sadly, the night must come to an end. It's time to get back home to your hotel for the night and soon return back in the states. On the quick ride back to the hotel on the Vespa, a subtle wind gently blowing your dress, you close your eyes and realize this was a night you and your girlfriends will never forget. Just like Fashion on the TOWN 2013.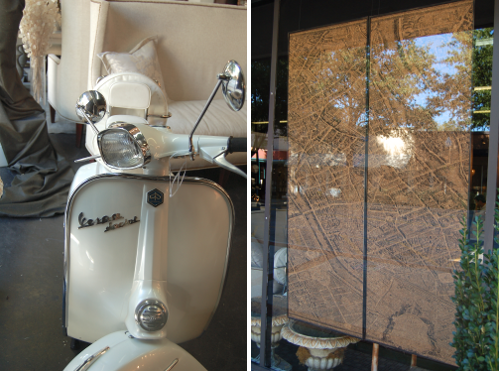 What do you think of our storefront? Do you think it embodies what a glamorous girls' night out would entail?
The Best Storefront Window contest will run from October 2-9 on Fashion on the TOWN's Facebook page. Be sure to stop by our retail boutique downtown to check out our storefront in person and then head over to their Facebook page to cast your vote for Linda McDougald Design | Postcard from Paris Home.
For additional details surrounding the event, be sure to follow their Facebook page or follow them on Twitter. #FOTT2013
Happy Shopping!