Brass and copper are making a comeback in interior design. What was once a trend in the late 80s and 90s is making its way into our homes once again. But fear not - the 'new' brass and copper are great materials for providing warmth and richness to a room, something that's perfect for the fall season.
We asked designer Rebecca Pollard to give us her thoughts on this latest trend and provide us with some inspiration for how we can incorporate these accents into our own homes. Here's what she had to say.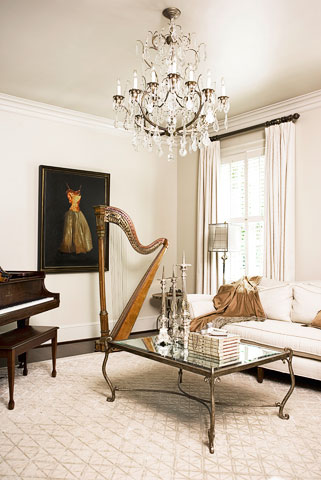 The first thing you learn in design school is, "there is nothing new under the sun." People have been recycling design trends since the beginning of time, but it is still exciting and refreshing to see things resurface. Brass was huge in the 90s and then people tired of it, as they do most design trends, but it has slowly been reintroduced and is gaining popularity. This "new" tarnished approach to brass is less intimidating than the shiny gold brass most people are accustomed to since it is more subdued. It has an industrial feel, which gives it a cool factor, but it is easy to blend into a multitude of styles. This trend is popping up in furniture, hardware, and lighting, and looks great in all three categories.
Here are just a few of my favorite brass light fixtures at the moment.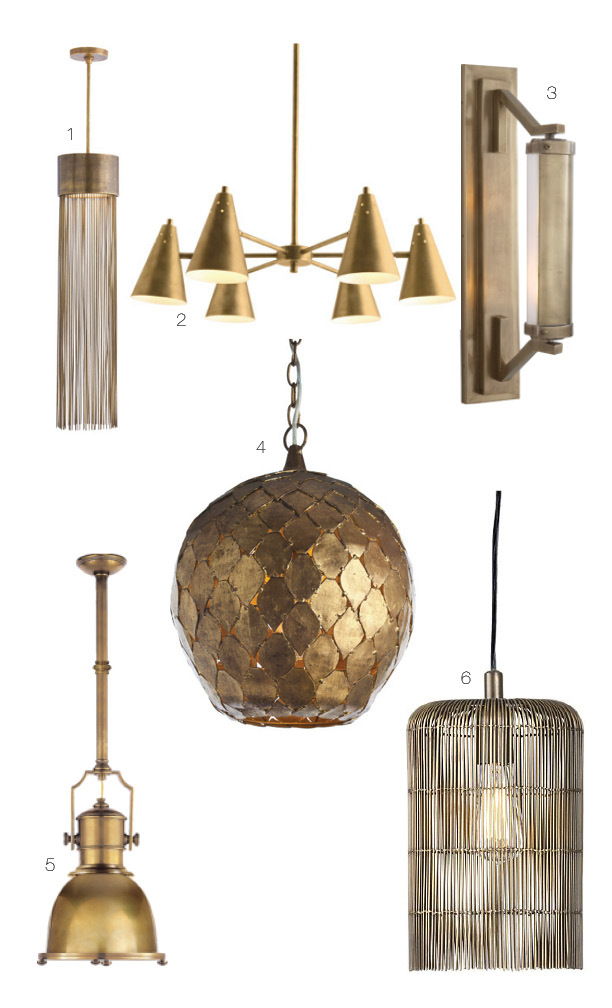 1- There is no other adjective to describe this fixture other than sexy. Such a sexy statement piece!
2- The Mid-century lines of this fixture are absolutely stunning and would be a great addition over a dining table.
3- I love and have used these sconces before, but they recently added them in this finish. With one part industrial and one part glam, these beauties would make an amazing conversation piece in any space.
4- This pretty pendant is so unique and would make an amazing impact and statement over a bar or hung in a powder room.
5- These industrial pendants are currently very popular, but they aren't too trendy due to their classic lines. These would be a timeless and classic addition in any space.
6- For those looking for a more budget-friendly lighting option, this pendant from Crate and Barrel is reasonably priced and allows you to add a little brass without investing too much. I would love to see these suspended on either side of an upholstered headboard.

Copper isn't as popular as brass at the moment, which might make it more appealing for those who are scared of their homes looking too dated. Copper is also a very classic material and can be incorporated into the most traditional of spaces or even modern designs. Copper is particularly popular in exterior materials since it tarnishes to a nice patina over time.
Here are a few of my favorite copper fixtures right now as well.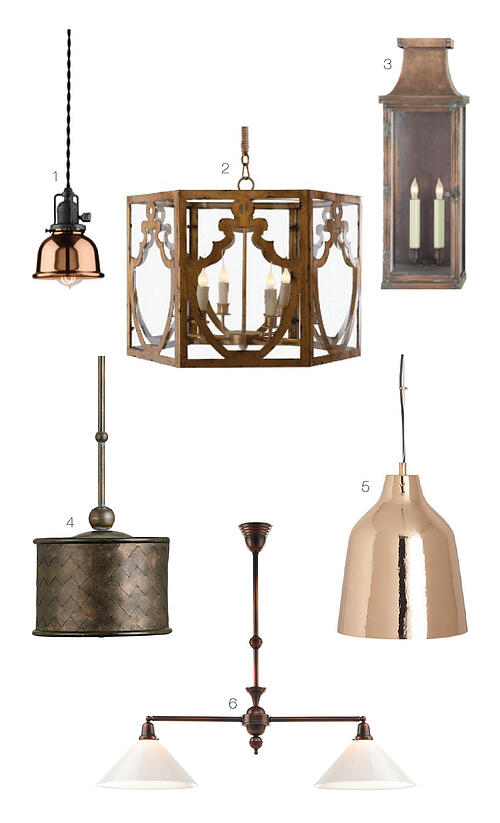 1- This pendant may be small, but its shiny copper shell gives it so much personality. It is a very versatile piece that I could see in a multitude of spaces from a farmhouse kitchen to an industrial loft.
2- The cutout detailing on this pendant is gorgeous! I love the hexagon shape that offers a refreshed approach to a typical drum pendant. This would be stunning over a dining table, in a bedroom, or over a bathtub.
3- This exterior sconce would make any front entry look stately. Copper will patina over time as it is exposed to the elements, which only adds to its appeal.
4- This pendant's pretty patina lends itself to Old World design. It is masculine without being too heavy, making it the perfect fixture over an island or a bar.
5- Although copper has been around forever, this pendant offers a fresh approach with its polished exterior and hammered texture.
6- This traditional chandelier is reminiscent of early 20th century lighting. It would make a statement over a kitchen island or billiards table.
Brass and copper can easily be incorporated in small doses with door or cabinet hardware, in larger doses with plumbing fixtures (including sinks and tubs) or light fixtures. To make a big statement, it could be used as a hood over a range or incorporated into furniture. Balance is key when mixing metals. You can mix warm and cool finishes in plumbing or with appliances, but a sense of balance must be maintained.
If you fear your home looking dated, know your brasses. The "new" brass is duller and has an aged look or patina to it. "Old" brass is very yellow and shiny, with more gold tones to it. As with fashion, it is best not to mix more than two trends at once.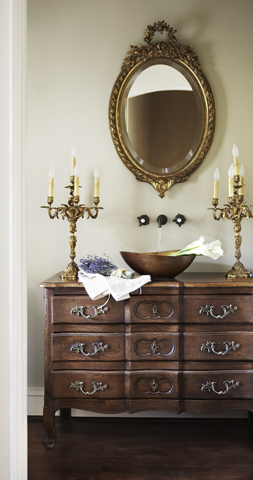 Thanks to Rebecca for sharing her thoughts on brass and copper accents and providing us with some inspiration.
How do you feel about this new trend? Are you loving it or hating it?
To work with Rebecca or another member of our design team to help you incorporate stylish accents, whether they be brass or copper, contact us today.
Photos by: Rachael Boling