We have something fun to announce today. Are you on Pinterest? If not, today is the day to sign up. We are big fans of Pinterest because it's an excellent visual resource for interior design inspiration. You can browse and gather ideas for your dream kitchen, bedroom or bath as well as find the latest fashion and food inspiration, motivational quotations, or heart-pumping workouts.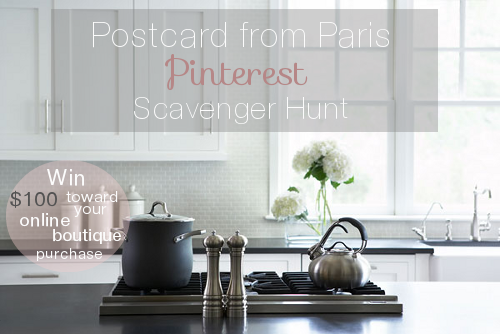 And through Pinterest, we are giving one lucky person the chance to win a $100 shopping spree towards your next purchase from our online boutique! To enter to win, follow the steps below.
1. Join Pinterest and follow PFPHome's Pinterest boards.
2. Create a Pinterest board called PFP Kitchen Scavenger Hunt.
3. Pin the items noted below and post a link to your Pinterest board in the comments.
4. Winner will be randomly selected based on entries that meet the criteria.
Items to pin::
- Your favorite kitchen from our kitchen design board
- Favorite dinnerware collection from our online boutique
- Your favorite recipe
- Your must-have kitchen accessory
- Favorite hosting piece from our serving pieces collection
- Your dream kitchen
- Favorite kitchen appliance
- This post
This contest is closed.
Happy pinning!