You've just bought your dream home or maybe even your very first home. You are just now getting settled in, most of the boxes have been unpacked and you're getting familiar with the area and the neighborhood.
You still don't know a lot of your neighbors though and your friends haven't come by to see the new place yet. What should you do? Throw a fabulous housewarming party of course.
A housewarming party is not only an excellent way to get to know your neighbors but it's also the perfect opportunity to invite all your friends over and give them a tour of your new home and neighborhood.
To make the planning easy for you, we've rounded up everything you will need in order to throw a stylish and fabulous housewarming party.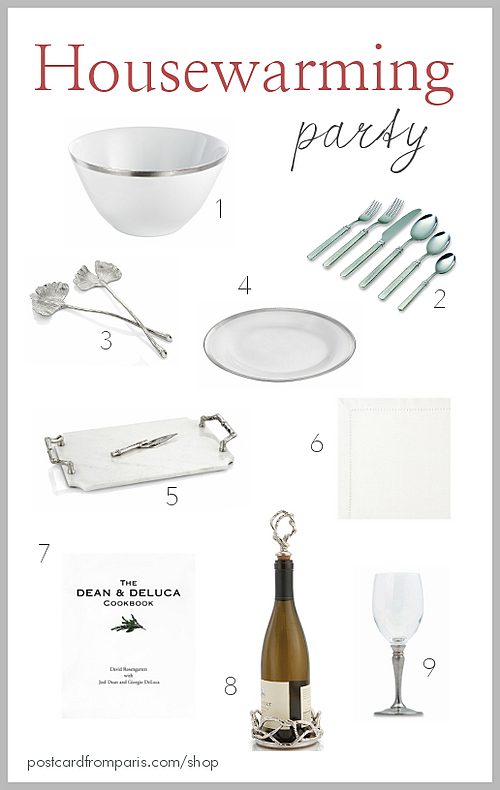 1. We are loving the new Michael Aram dinnerware collections and this serving bowl from the Silversmith collection would be perfect for serving a salad to your guests.
2. Don't make your guests use just any ordinary flatware. Instead use pewter flatware from the Match Gabriella collection. This five-piece flatware includes a salad fork, dinner fork, dinner knife, soup spoon and teaspoon.
3. Serve your salad or appetizers in style with these Michael Aram Ginkgo servers. Depicting fallen gingko leaves, these servers, cast in nickelplate, will add elegance to your tablescape.
4. Bring your tablescape and food to life with beautiful dinnerware, like this Silversmith dinnerware collection from Michael Aram.
5. While guests are arriving, serve a pre-dinner snack of cheese and crackers with this bamboo cheese board and knife from Michael Aram.
6. Upgrade from your usual paper napkins at dinner and use these white linen napkins from Vietri instead.
7. Not sure what food to serve or make for your guests? Try one of the 400 delicious recipes in Dean & Deluca's cookbook to really impress your neighbors and friends.
8. What party is complete without a little wine or bubbly? Turn your bottle of wine into a piece of art with this Wisteria Wine Coaster and Stopper set from Michael Aram.
9. Serve your guests the wine of your choice in these all-purpose wine glasses from Match. These wine glasses are a stunning combination of sparkling crystal and rich pewter and are sure to leave an impression with your guests.
Bonus: Remember that it's not proper etiquette to request housewarming gifts or register for housewarming gifts. A housewarming party is meant to 'warm' your home with your friends, family and neighbors and show off your new place. Some people may still opt to bring you a gift or a little something to add to your new home. If anything, hopefully, you'll gain some new friends and receive some great compliments in return.
Looking to throw a housewarming party or stock your new kitchen or home with some fabulous items? Be sure to stop by one of our two retail locations and let our retail specialists help you make the perfect selections for your new place. You can also visit our online boutique to pick out some fabulous items to make your kitchen and home stylish.
For additional inspiration, be sure to check out our Gifts for the New Homeowner Pinterest board and re-pin and re-tweet your favorites.