With summer in full swing, weekends are spent at the pool and its the time of year to take week-long vacations to your favorite beach destination. While the heat this time of year can be brutal, it doesn't mean you have to sacrifice style.
Now, more than ever, there are a ton of cute and fashionable bathing suits available to fit every body type and style preference. Whether you prefer two-piece or one, we're loving all the fashionable options.
We've pulled together some of our favorite bathing suit trends this year. As we've mentioned before, interior design is very similar to fashion so we paired some of our most fashionable rooms with each of the latest current summer suit trends.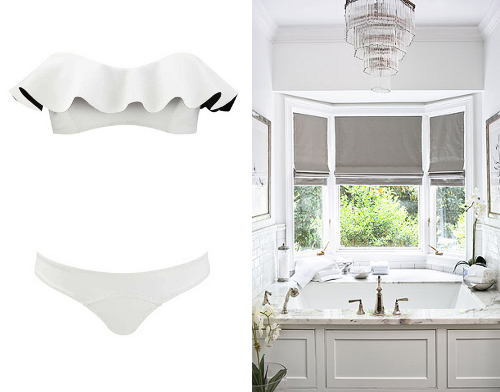 There's nothing more classic than all white. What makes both the suit and the space unique is the detailing. The ruffle detailing in the suit top and all the beautiful details added to this bathroom - like the chandelier and exquisite finishes - make them stand out.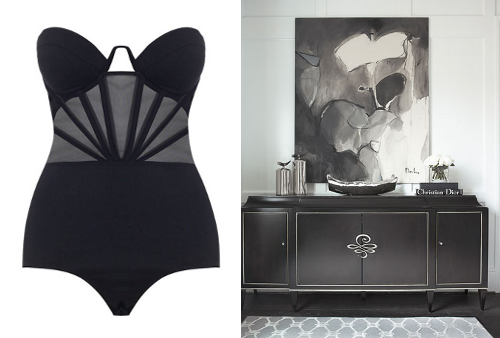 All black is another beautiful look, and for clothing, bathing suits in particular, it's very slimming. The detailing in both the suit and this space are again what sets it apart. The fabulous mesh and pattern in the suit and gorgeous artwork and accessories that flank this sideboard add a unique touch.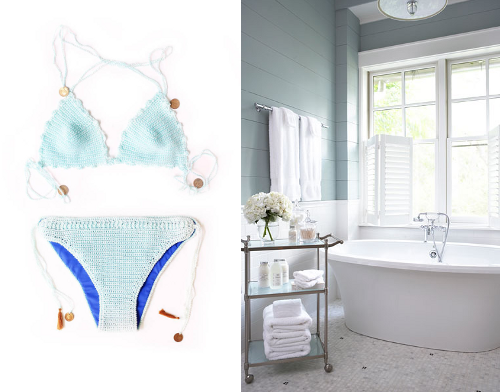 Summer fashion tends to be all about color. If you like the idea of adding a little color to your pool or beach wear, this knit suit features a beautiful light aqua color and fun pop of a more vibrant blue for the liner. This color, also used in this master bathroom, has an almost serene feel to it that automatically transports you to the coast.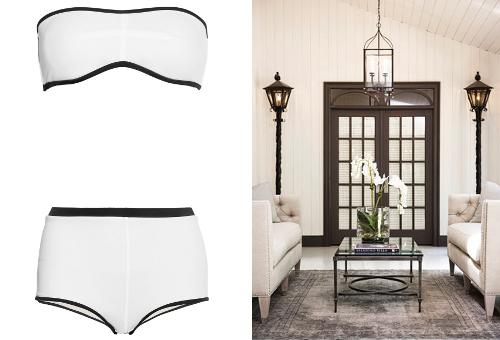 In your home, painting your trim a darker color than your walls is a great way to add contrast and interest. The same goes for fashion. The black trim detailing on this retro two-piece dresses the suit up and calls your attention to the unique lines and shapes of the bathing suit.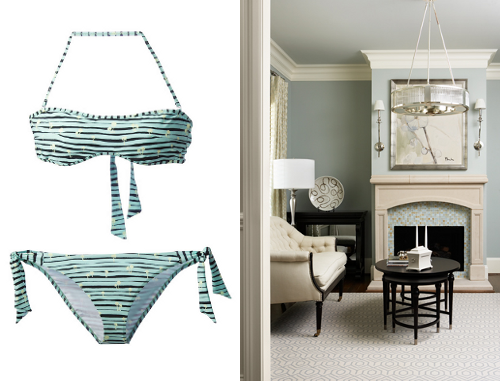 And last but not least, another fun colorful pairing. Not only is the color of this suit and this living room fun and vibrant, the patterns in both are also beautiful. The stripes in the suit are paired with a fun palm tree print and the patterned rug pairs well with the pattern in the fireplace tile, wall art and plate accessory.
Which fashionable suit is your favorite?
If you like some of the fashionable rooms you've seen and need help infusing fashion into your home, be sure to contact one of our designers today.
Interior photos by Rachael Boling. All bathing suit images from Harper's Bazaar.