As they do each year, Pantone has officially released their Color of the Year for 2014. Sometimes these colors can be bold and somewhat challenging to incorporate into your home in simple ways.
Our designer Rebecca Pollard is back for another guest post, giving us her thoughts on the new color of the year and ways we all can incorporate this year's color into our homes.
***
If you have a Pinterest account or pay attention to design trends somewhat regularly, then by now you know the Pantone Color of the Year for 2014 is "Radiant Orchid." This color is a blend of pinks and purples with cool undertones. While we love our neutrals and monochromatic color schemes, I am so excited about using this color in my designs this year.
Since orchids are found in nature, this is an easier color to incorporate into designs than you might think. As with all design trends, they come and go, so if you aren't entirely convinced this color is for you, we have assembled our favorite accessories (plus a few other items) to help you incorporate this look into your home.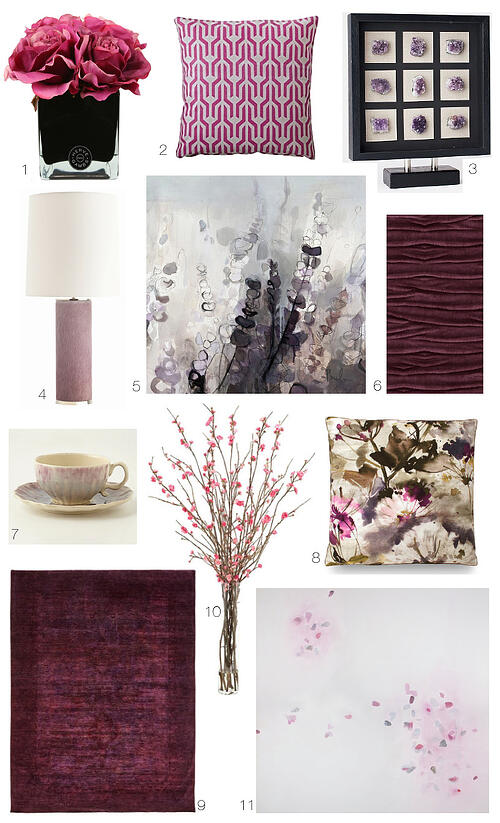 1. Love flowers but can't keep them alive? These roses will never die and are a great way to brighten up an otherwise monochromatic room.
2. Because of their smaller size and lower price point, pillows are a great way to incorporate design trends without going overboard. This graphic pillow is a fun way to freshen up a room with this year's color.
3. These framed geodes are a great accessory to add texture and dimension to a buffet, nightstand, or bookshelf.
4. This might not be a "radiant" shade of orchid, but the sleek lines on this lamp are sure to make a statement in any room.
5. If you are looking for a timeless piece of art that pays subtle tribute to the color of the year, look no further. This print is captivating.
6. This fabric would make beautiful pillows, Roman shades, or bedding. The possibilities are endless!
7. This cheery cup and saucer is the perfect way to take your morning coffee or to curl up with your favorite book on a rainy afternoon.
8. This pillow is graphic and fun with a punch of color. Its neutral palette makes it easy to blend with any decor.
9. While a rug is a bigger commitment to a specific color, you can't go wrong with this amazing overdyed design because the print is subtle and beautiful.
10. This floral arrangement has a great height and is the perfect way to fill space above a buffet or on bookshelves with visual interest and color.
11. For a more subdued or abstract piece of art, this is a gorgeous option.
Thanks to Rebecca for sharing some tips and inspiration for incorporating Pantone's 2014 Color of the Year into our homes.
What are your thoughts on the color? Will you be incorporating it into your designs and throughout your home?
Be sure to check out our post with Pantone's Fall 2013 colors, and for tips on how to mix color amongst a neutral color palette, download these five tips on using neutrals from our design team.