When doing a custom build or renovation, there will come a time you will need to pick out mirrors for all of your bathrooms. This may sound like an easy task but to some, it can be quite challenging.
Mirrors come in a wide variety of shapes, sizes and finishes, and it can be tricky selecting a mirror that fits the style of the bathroom and fits the vanity shape and size.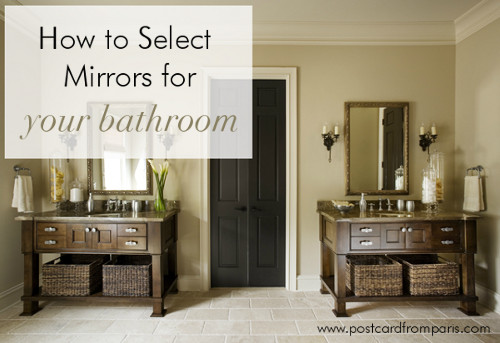 Before you buy a mirror that's too large or too small, here is some advice for how to go about making the right selections.
Consider Finishes
Before buying a mirror for your bathroom, consider the finishes in the space. Are your fixtures chrome or brass? What type of finish is used on your lighting and hardware? It's ok to mix finishes, but it's important to mix them effectively to avoid creating a space that feels disjointed. If your fixtures and lighting are all a chrome finish, for example, consider selecting a chrome or silver finish for your mirror. If you have one finish throughout your bathroom, you could also consider selecting a different finish for your bathroom mirrors so they stand out and make a statement if you find a really fabulous mirror.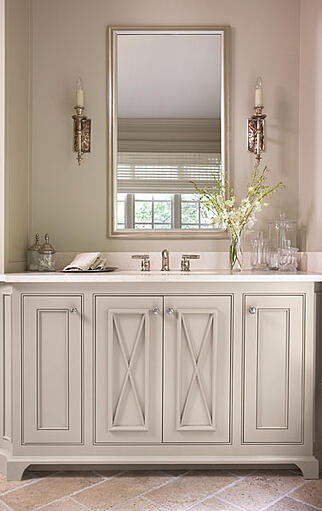 Select the Appropriate Shape
Mirrors come in a variety of shapes, the most common being rectangular/square or circular/oval. When considering which shape is best for your bathroom, assess the lines and shapes used in the rest of the space. Does the space have a lot of straight, clean lines or more curvy lines? If you don't want to call attention to your mirror, consider matching your mirror shape with the the type of lines used in the rest of the bathroom. For example, if your vanity is very rectangular, you have a rectangular sink and your tile has a rectangular or square shape, go with a more rectangular or square mirror that will blend in with the rest of the design elements.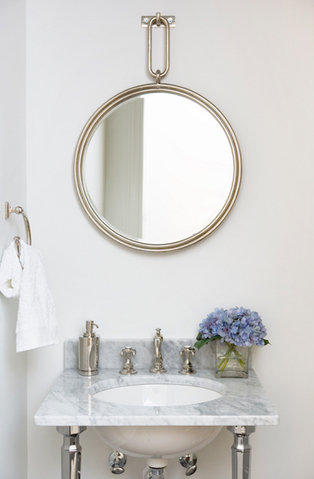 Keep Mirror Size Proportionate
It's important to select a mirror that is the correct size for the space. A good rule of thumb is to select a mirror that is a few inches narrower than your bathroom vanity. If you have a large double vanity, in your master bathroom for example, you can either do one large mirror that's a few inches narrower than the whole vanity or choose two mirrors, one for each sink area. When going with two, divide your vanity in half and select a mirror that is slightly narrower than each individual vanity/sink area. If you are doing wall sconces in between mirrors, you will need to keep the sconce size in mind and select a mirror that will fit in between them.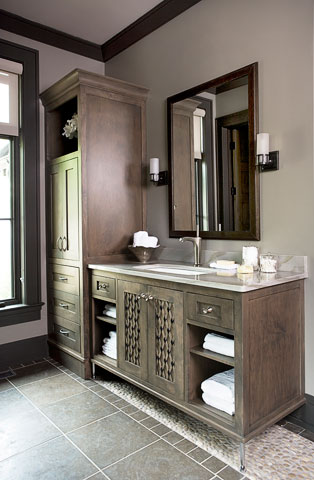 Select the Right Style
Just like there are a variety of different styles when it comes to furnishings and fixtures, there's a wide variety of styles when it comes to mirrors. There are more traditional, more contemporary, antiques just to name a few. When deciding what mirror is best for the space, take into consideration the appropriate style. If you live in an older home and are renovating your bathroom, an antique or vintage mirror could be a good choice that would match well with the rest of the existing house and fit the home's style. If you lean more towards traditional design elements or traditional furnishings, make sure your mirrors match the rest of your home's style.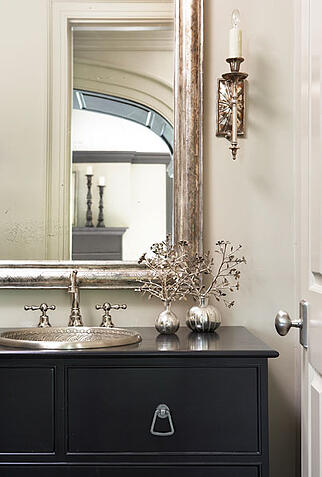 Consider Other Bathroom Elements
We briefly mentioned wall sconces. Lighting is an element to keep in mind when selecting the appropriate mirrors. If using wall sconces on either side of one or two mirrors, make sure there will be enough space on either side of the mirrors for the sconces. If the sconces have a more 'heavy' look, you might consider a mirror that will leave more space between the light fixture and the mirror. The middle of the mirror should typically be hung where the center is at eye level and is usually placed 3" to 4" above the vanity backsplash. So how tall of a mirror you select would be dependent on wall height and your backsplash.
Hopefully these tips will help you as you shop and search for the perfect mirror for your bathroom. The good news is that most mirrors can easily be replaced and swapped out later down the road if your tastes or style change and is a great way to add visual interest.
What are some things you keep in mind when making mirror selections?