Mother's Day is right around the corner, meaning it's time to start thinking about a beautiful and unique gift to get for someone so special. But what do you get the person who never asks for anything or has everything they need? You get them a truly unique, rare gift that will leave a lasting impression.
We've recently added several new items to our online boutique, many that would be perfect for mom on this special holiday. We've rounded up just a few of our favorites to help you in your quest for the perfect gift for her.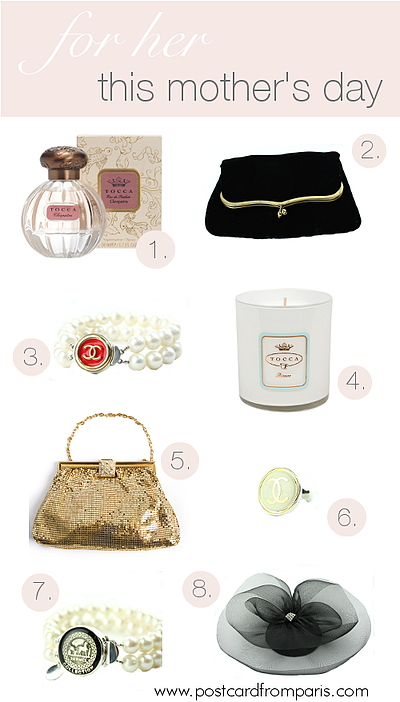 1. If she loves luxury and lush scents, consider one of Tocca's Eau De Parfums. It comes in a beautiful old-world glass bottle and is available in several popular fragrances, including Cleopatra and Stella.
2. A woman can never have too many purses and this elegant black velvet bag is something she'll want to add to her collection. With its stylish envelope design, it's the perfect accessory for a night out on the town.
3. For another fun accessory to add to her ensemble, give her this red and gold double strand pearl bracelet with authentic Chanel button. It's a unique piece that she is sure to love.
4. If she loves to fill her home with mesmerizing and intoxicating aromas, maybe one of Tocca's lovely candles would fit the bill. Available in five different fragrances, each candle burns for approximately 60 hours.
5. If she loves one-of-a-kind items and can't resist something shiny, give her this vintage Whiting and Davis gold mesh purse. It comes with a coin purse and double-sided mirror that are just what a lady needs to make a statement.
6. A true conversation starter that catches the eye, these white and gold silver rings with authentic Chanel button are the perfect accessory.
7. If she's more of an Hermes girl than a Chanel girl, consider this silver and black double strand pearl bracelet with authentic Hermes button. This versatile bracelet is perfect for the workplace or an evening out.
8. For the sophisticated lady who is well versed in fashion and confident in her style, give her this french couture black silk tilt top hat. It's made of durable mesh and topped off with an elegant rhinestone embellishment.
Stop by one of our retail boutiques or visit our online boutique to purchase these items and browse some of the many other gift ideas we have for mom.
For additional Mother's Day gift ideas, take a look at our Gifts for Mother's Day Pinterest Board and re-pin or tweet your favorite using #MothersDay #PFPHome.